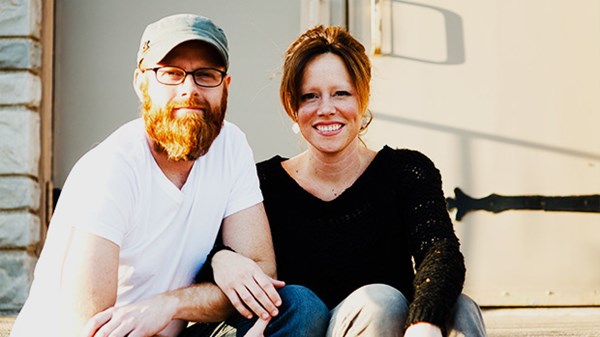 A Growing Hunger for a Local Voice: Sara Groves and Family Open Art House in St. Paul
Art House North is gathering musicians, photographers, and filmmakers to find 'a creative culture for the common good' of the Twin Cities.
6.26.12
When it comes to understanding the role the arts play in helping a city to flourish, the Groves point to two specific influences that have shaped their thinking: reading Refractions: A Journey of Art, Faith, and Culture, by Makoto Fujimura, and a visit to Washington, D.C., while on tour with Michael Card. The Groves has just started touring, and were invited to have lunch in the Senate dining room. After overcoming the initial hurdle of finding a coat and tie for Troy to wear, the Groves found themselves sitting across the table from politicians and advisors. Says Troy, "They sat us down and said, 'You know, after a career of working on Capitol Hill, we've come to realize that in politics, we're just responding to culture. But it's the artists who are creating it—for good, or for bad.' In what ways were we wielding this power of art in our city, and in our different spheres of influence?"
Subsequent encounters with people like bioethicist Nigel Cameron and social activist/theologian Ron Sider continued to point the Groves toward a view of the arts as an important part of cultural thought, beyond pop culture and entertainment. "They would say things like, 'I can stand up in church and talk about the needs of the world, and the fact that the gospel is more than the moment of salvation, that Jesus is making all things new. But if you write songs about these things, you can reach so many people and keep the conversation going.'"
Just as the arts (music, photography, films, paintings) can provoke the deep questions of faith and humanity, they can also help people rediscover a love and passion for their communities. And they didn't have to look any further than their own city of St. Paul for a seminal example of such an artist. "Look at what Garrison Keillor has done for the Twin Cities, for St. Paul. He has created an identity for our city. Yes, we have our hard winters. But we have a storyteller who has created this narrative for us that has added so much joy to our existence." Sara, who grew up in Missouri, recalls listening to A Prairie Home Companion every Sunday after church. "I still get giddy that I live in St. Paul, where this great storyteller wove this great story. We've moved so far away from that as a culture. Now it's 'big everything.' But there is a growing hunger for a local voice. And we want to help foster that."
MORE FROM CHRISTIANITY TODAY