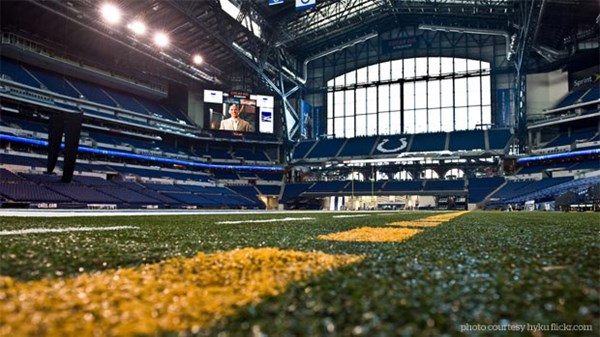 A Legacy in Indianapolis That Outlives the Super Bowl
Long before the NFL named my hometown this year's host city, Near Eastside leaders were revitalizing the heart of their neighborhoods.
2.1.12
In 2007, Near Eastside neighbors convened as part of the Great Indy Neighborhoods Initiative, working intensively for six months to imagine a flourishing future for the neighborhood. The result of these conversations was a Quality of Life Plan that outlined redevelopment in seven areas: Family Strengthening, Education, Public Safety, Affordable Housing, Business and Economic Development, Livability, and Leadership and Neighborhood Connections. In partnership with LISC and a host of local organizations, the Near Eastside lost no time in working toward their plan. The John H. Boner Community Center got a major facelift, and many other redevelopment projects popped up along the East 10th Street corridor running through the heart of the neighborhood.
Becoming the focus of the Super Bowl Legacy Project opened doors for the neighborhood to leverage a variety of funding sources to make significant progress toward the Quality of Life Plan. Through this effort over the past five years, over $150 million has been invested toward objectives related to the Plan. And perhaps most importantly, each initiative or project is led by entities within the Near Eastside. This funding has been used to jumpstart the revitalization of the housing stock, particularly in St. Clair Place, an area that had been largely abandoned. Other major projects included overhauling the streetscape along the 10th Street Corridor, building a new facility for the People's Health and Dental Center, and launching Pogues Run Grocer, Indy's first food co-op, which makes healthy and locally produced fare available in what's otherwise a food desert.
The Super Bowl Legacy Project also brought the Chase Near Eastside Legacy Center (which houses the Super Bowl XLVI YET) to the campus of Arsenal Technical High School. Like other pieces of the project, the John H. Boner Community Center assembled funding from local, state, and national sources to complete the $11.4 million center, which will provide fitness and education to Near Eastside. As it has in other Super Bowl host cities, the NFL provided the first $1 million as seed funding. This type of gathering place is one important piece of the Near Eastside neighbors' vision for their neighborhood and is the first YET to be completed before the Super Bowl. It's clear that the Legacy Center will contribute deeply to the health and flourishing of the place.
MORE FROM CHRISTIANITY TODAY