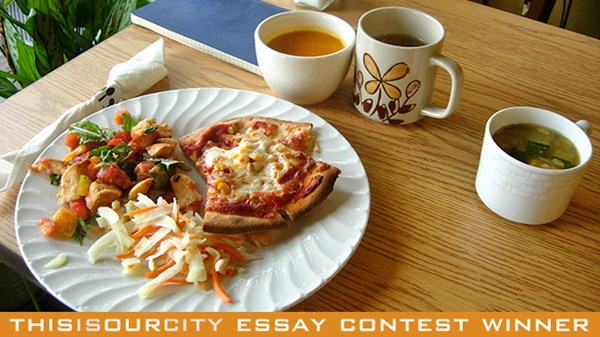 Pay-What-You-Can Restaurants Dish Up Dignity in Denver
A new business model helps close the socioeconomic gap.
1.15.13
After a visit to Denver's first pay-what-you-can restaurant, SAME (So All May Eat) Café off historic Colfax Avenue, Mathews felt prompted by God. "This facility was a Spicy Pickle," she remembers. "I joke with my staff: I had this 'spicy pickle feeling' I should leave my name and number and see if I could just assume the lease." After ignoring two "spicy pickle feelings," she finally left her name and number for the manager. He called her right away; he was ready to hand her the keys. People, financing, and plans began to align, and Café 180 opened its doors in December 2010.
The idea is simple: Healthy and delicious food is available to all, regardless of their ability to pay. Customers are asked either to pay a donation for their meal, or if they can't pay, to volunteer. Café 180 espouses a philosophy of pay-what-you-can, not pay-if-you-can. All are expected to participate in the community and give a certain amount. Mathews says that about 30 percent of customers volunteer for their meal, 50 percent pay what their meal is worth, and 20 percent pay it forward. Officially organized as a nonprofit, with a volunteer coordinator and 250 regular volunteers, Café 180 nonetheless functions as a business. A chef runs the kitchen, each plate is checked for quality, and each diner is considered a cherished customer.
But the bottom line for pay-what-can restaurants isn't profit. Instead, it's dignity for the poor, a vibrant and diverse community, and subtle life transformation. Dignity is what motivated Libby Burky of Denver to open SAME Café. "We used to volunteer at a soup kitchen in Peoria, Illinois," Burky recalls. "The quality of food wasn't so great. People weren't treated with dignity, and they weren't really being helped. Those we served the first day were the same people we served four years later." That experience planted the seeds that bloomed into organic, all-natural meals for Burky's customers. Yet delectable fare was only the first level of empowering the homeless and working poor. By requiring all to pay for their meal, by money or volunteer labor, she also removed the shame of receiving a handout.
MORE FROM CHRISTIANITY TODAY