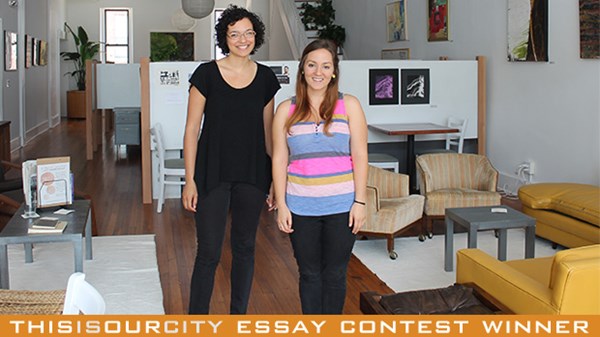 A Place for Creatives to Come and Perch
Mercury Studio takes the temperature of Durham's arts scene.
3.11.13
Unless you're paying attention, you might mistake the "café work area" of Mercury Studio for another coffee shop, only without the periodic clamor of an espresso bean grinder. When I visited the controlled bustle of the workplace (equal emphases on work and space) this fall, I began to see rhythms and relationships that make this "community-minded coworking space" different from the third spaces in abundance here in Durham, North Carolina.
Near me sat an ER doctor at his personal desk diligently writing a novel. A "home-schooled" teen—which, in this case, deserves scare quotes, as the studio becomes equal parts "home" and "school" on any given school day—works slightly less assiduously through a Mark Twain novel. Later in the day, after-hours studio members drifted in (all members have keys and around the clock access) to work on their passions and/or professions, everyone from videographers to pastors and accountants. Everyone who uses Mercury Studio pays to be a member, and prices vary based on need and use, from the periodic café member to the more dedicated desk or studio member. Some members are full-timers hanging their shingle in the company of others. Others bear a litany of "who-also-______" titles: some who-also pursue a passion, some who-also start to work on the next thing to get them out of the job they hate. Whatever the scenario, they've been welcomed into a different way to do it at Mercury Studio, which opened in early 2012.
Katie DeConto helped start Mercury in part because of her first job after college, an office gig that made her wonder if "pushing papers is all there is, you might as well get comfortable," says the 27-year-old New England transplant. But she relished the fact that her job let her build relationships. "I began to realize what a wasted opportunity it would be not to be able to get to know people who are different," says DeConto.
MORE FROM CHRISTIANITY TODAY