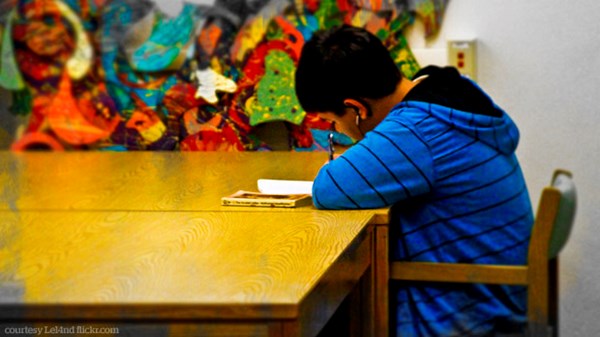 Waiting for the Real Superman: A Christian School Closes the Achievement Gap
Hope Academy in Minneapolis says its success reaching at-risk youth rests on Jesus.
4.19.12
Over the years, many public school officials have contacted Hope, seeking advice for how to duplicate its model in a secular environment. Gregg is adamant that such attempts are futile, because public schools are unwilling to address the real, spiritual issue: "God is in the redemption business. But this redemption will only come in response to sacrifice. Apart from Christ's sacrifice, we cannot succeed."
Nathan Ziegler, principal of grades 6-12 at Hope, worked for several years in the Minneapolis public schools, noting the lack of structure and accountability. "The biggest difference," Ziegler explains, "is how we approach discipline. There is consistent follow through, clear expectations, and an emphasis on shepherding the heart." Moreover, in the public schools, says Ziegler, it was more difficult to address the relational problem: "In order to bring about real change, it's going to take an investment in students' lives." As such, Hope's faculty are encouraged to live in the surrounding neighborhood and to serve students outside the classroom walls. Several faculty, including Ziegler, have welcomed students into their homes when it was clear their own family situations were becoming too volatile or dangerous. In the public schools, such a gesture would likely be viewed as inappropriate. But according to Gregg, teachers serve at Hope because they are called to a mission, and building trust with students and their families is the currency of what they're doing.
Among this year's modest graduating class of 11 students are a National Merit Scholar finalist and several others who have earned academic scholarships to attend college. One of these students is Merhawi Temnewo, an immigrant from Eritrea, the tiny country on the Horn of Africa. At a young age, after his parents died, Merhawi was brought to the United States by his aunt, who enrolled him and his siblings in a Minneapolis public school. After a few years, his aunt unexpectedly returned the family to Eritrea, where they struggled with no education and little food for over a year. Meanwhile, his younger sister's former math teacher, Dena Nix, was petitioning to have Merhawi and his siblings returned to the States, writing letters to President Bush on their behalf. Eventually Nix's requests garnered a direct response from the President, allowing for the family to return and for all the siblings to be adopted by the Nix family and eventually enrolled at Hope.
MORE FROM CHRISTIANITY TODAY