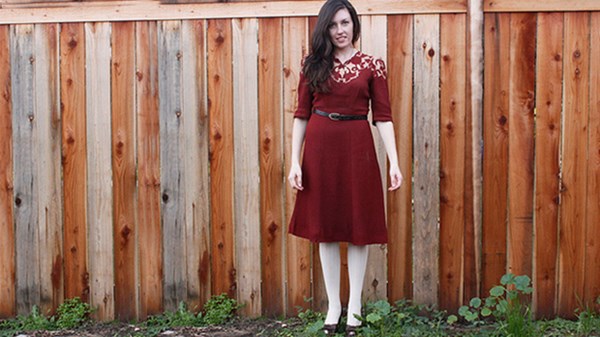 Redeeming What Was Tossed: Fashion, Faith, and a California Designer's Creative Calling
Beth Giles takes "useless" old clothing and repurposes it for something good.
6.22.12
Where "Salvaging" and Fashion Meet
Beth and her husband remain involved with the organization for Ugandan orphans. This experience has both fostered an international social conscience and has encouraged her entrepreneurial spirit and creative abilities. But these experiences also raised new questions for her: Did her work as a Christian at the intersection of fashion and business begin and end with simply making money to give to the church and charitable organizations? Or was there a way for her to pursue fashion and business out of a robust Christian vision for this field of work?
The senior project gave her new ideas about how she might cultivate her artistic gifts and discern how she might work out her vocational calling in the fashion industry. For some time, Beth had been frequenting thrift stores and markets in search of clothes and other items that she could salvage by renewing or modifying them. Articles of clothing and old watches—which some consider to be "useless"—have been transformed into necklaces, and purses have been created out of retired skirts and belts. Now she began to believe there might be a customer base for her to sell these items to.
Beth began formulating ideas for a small business in which she could use her creative gifts while promoting sustainable buying practices for those interested in vintage clothes and furniture. In a short time, Salvage Life was created, and Beth began selling her products online. She explains her vision for renewal and sustainability, which runs counter to the popular buying habits of our society:
Salvage Life was born out of a love for all things vintage met with a disgust for the disposable society we live in and a eye for seeing the potential in things. Our desire is to discourage wastefulness and promote sustainable buying practices without missing out on the beautiful things our world has to offer. We believe that given a little faith and creativity, everything has the opportunity for a new life.
MORE FROM CHRISTIANITY TODAY