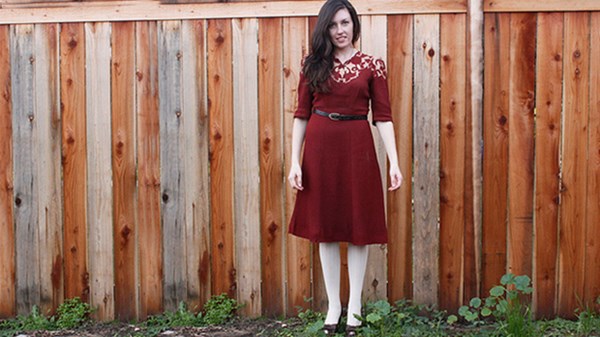 Redeeming What Was Tossed: Fashion, Faith, and a California Designer's Creative Calling
Beth Giles takes "useless" old clothing and repurposes it for something good.
6.22.12
Having spent time in various areas of the fashion industry, Beth noticed unhealthy practices in the industry that ran against the grain of her deeply held values of bringing together beauty and sustainability. For example, some garments were intentionally designed to survive only half a dozen washings—just long enough for that particular fad to die out. Salvage Life has become a way for her to exercise her creative gifts as well as offer something to the broader community that enabled others to share in the practices of thoughtful commerce. Purchasing fashionable clothing at affordable prices did not mean that individuals disregard the lifecycle of that particular garment—from the garment's production to second and even third uses. For those with an eye for beauty and yet leery of buy-dispose practices, Salvage Life offers alternative forms of buying fashionable apparel.
Andy Crouch's book, Culture Making: Recovering Our Creative Calling, shows how the cultural goods and services that we create open up new opportunities for living and thinking which inevitably reshape culture. Similarly, creating businesses like Salvage Life make possible new ways of purchasing goods that nurture a different way of being human and provide new avenues for healthy and sustainable patterns of commerce for the broader community.
The connection between alternative purchasing practices and fostering a healthy humanity is central to Beth's passion and creative calling. In an interview, she explained how her vision for Salvage Life came about: "Salvage Life has two meanings. The first is that I 'Live the Salvage Life' by attempting to use as many old things as possible to fulfill new purposes. Secondly, I 'Salvage the Life' left in an item and allow it to live again. The key to living the Salvage Life is to not see something for what it is, but what it could be."
MORE FROM CHRISTIANITY TODAY