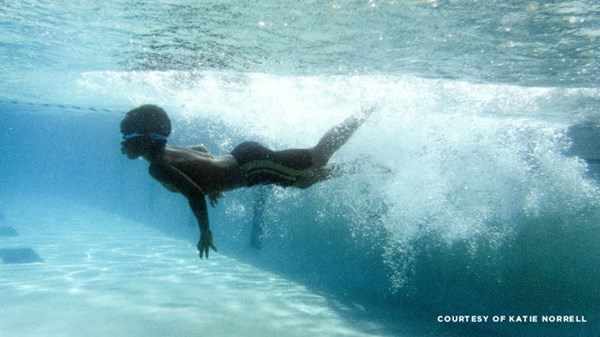 Image: Courtesy of Katie Norrell
Rethinking the $3,000 Missions Trip
When I learned that kids in my city couldn't swim, I started to rethink how much I'd invested in overseas missions.
7.23.13
Emily noticed Martin roaming her neighborhood from morning to night, and asked if he wanted to join the swim team. When he said yes, Emily went to work organizing rides and meals. Other families began taking turns in the car pool line. It costs $25 to join the team because Emerald Youth Foundation raises funds to cover caps, goggles, bus transportation, food, insurance, and pool time. All Souls Church, the downtown congregation that I pastor, included the swim team in our mission budget and supports the team with volunteer coaches.
The broader community is also partnering with Knoxville's churches in serving Martin and his friends. For example, I recently stood up at a coaches' meeting and asked if any team had old lane lines they could loan us. I had three offers in three minutes. Swimmers from the Pilot Aquatic Club, Knoxville's nationally ranked club team, have donated fins, suits, and kickboards. Even the University of Tennessee swim team has gotten involved, providing suits, coaches, and lane lines.
Rethinking the $3,000 Mission Trip
In some ways, however, what is happening with our urban swim team is more the exception than the rule in our city. Some well-meaning Christians have a theology of mission that seeks to alleviate the spiritual and physical suffering of people far away, but pays little attention to needs here at home.
I know because I was one of them. I spent many years taking mission trips to Tulcea, Romania. We shared the gospel, cared for orphans, and started a medical clinic. It seemed that God moved in powerful ways. Then my friends Jon and Toni moved into one of Knoxville's marginalized neighborhoods. Jon invited me to go on prayer walks with him on Wednesday mornings. I saw syringes on playgrounds, prostitutes turning tricks, hustlers selling drugs. Our walks led me to volunteer at the elementary school in Jon's neighborhood. I'd assumed all the schools in our city were pretty much the same. They aren't. Kids with B averages in Jon's school score in the 30th percentile on standardized tests. Kids with B averages in my neighborhood score in the 90th percentile.
MORE FROM CHRISTIANITY TODAY