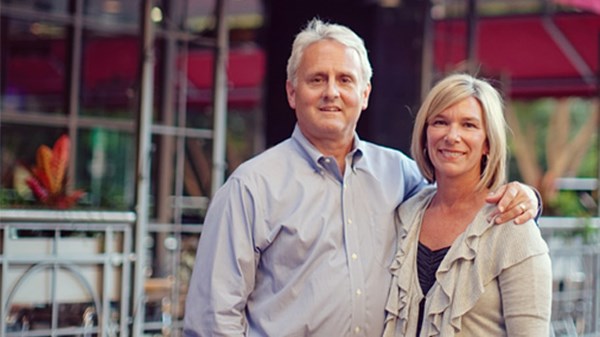 Shrimp and Grits with a Side of 'Shalom': The King's Kitchen Revitalizes Charlotte
Every aspect of Jim Noble's newest restaurant—including the food, all local—is designed to reflect the kingdom of God.
1.31.12
In the heart of Charlotte, North Carolina, near the historic intersection of Church and Trade streets in Uptown, you'll find a new four-star restaurant that feeds its city's soul.
Every aspect of The King's Kitchen is designed to bless the city of Charlotte. One-hundred percent of proceeds from lunch and dinner go to local and national ministries that feed the poor. Most of the restaurant's employees, including the formerly homeless, troubled youth, and rehab graduates, were previously unemployable. And the majority of ingredients featured on the menu—specializing in "local Southern cuisine"—come from local farmers. As the restaurant's tag line says, "When you dine, the whole community thrives."
"That's our goal—to help change people's lives," says founder and head chef Jim Noble, a restaurateur for 28 years. "Our goal is for people to see themselves as God sees them and then teach them to walk it out."
Charlotteans might suspect that with its profits going beyond the restaurant's walls, The King's Kitchen would serve mediocre fare in an atmosphere that feels reused. What customers get is the complete opposite. Both are held to the same high standards that are on display at Noble's three other local restaurants. The menu features favorite Southern classics with a modern twist, such as Shrimp and Grits, Blackened Catfish, and its famous Aunt Beaut's Skillet Fried Chicken, with dinner dishes ranging from $13 to $20.
"The Scriptures say, 'Everything you do, do unto God,'" Noble says. "So everything you do should be done in a spirit of excellence. Everything Jesus did was in excellence, so if we're striving to be like him, then we have to do the same thing."
Along these lines, organic produce from local farmers helps The King's Kitchen create memorable, (mostly) healthy food.
"As a chef, anytime I can use local food I always try," he says. "When we feed the poor we want them to have a decent, substantial meal."
Prior to opening The King's Kitchen in 2010, Noble, an ordained minister, and his wife, Karen, owned and operated three restaurants in Charlotte and Winston-Salem while leading Restoration Word Ministries and delivering a weekly radio broadcast ministry. But something was missing from their vocational calling.
The couple eventually found the missing variable to the equation that included their desire to serve God and their passion for serving food—Charlotte's poor. They developed a vision for a nonprofit restaurant that would directly benefit the city's underserved.
"As believers we are called to help take care of the poor," Jim Noble says. "They're like marching orders—we really don't have a lot of options in that. So Karen and I did it how we knew how, from the restaurant perspective."
Noble intentionally opened The King's Kitchen in the middle of the thriving Uptown business market, but not for the reasons one might expect. "That's where the homeless population is," he says. "That's what God put on our heart—to be as close to Church and Trade as we could, and we're probably 50 to 100 yards away. We reached our goal."
Those who seek employment at The King's Kitchen, many of whom are homeless, can enroll in its four-part Kitchen Restoration Program, which offers on-the-job training, regular Bible studies, leadership instruction, and, in the near future, financial management courses. Graduates are also held accountable in their job search.
"Our goal is to help them learn to function in society from a Christian perspective," Noble says. "There's a spiritual side and a natural side. People need to learn how to get a job and to be on time. We're trying to help the whole person, soul and body."
To nourish the soul, Nobel also leads Sunday church services at the restaurant for employees and any other interested parties.
"We have a lot of homeless folks," he says. "It's a small, growing church and we really want to help transform people's lives because regardless of where you come from or where you've been in life … all of us find the same answer in God through Jesus Christ."
One person who's benefited from the church and the program is Angel Merced, 43. A former construction worker, Merced has been living under one of Charlotte's bridges for three years as one of the 6,000 Charlotteans who are homeless. Last year, the city saw a double-digit jump in the number of homeless families, up to 21 percent. That number is expected to rise this year.
"The reason I became homeless was because I got laid off and lost everything," Merced says. "I tried to get some help and nobody helped me."
That changed one Sunday afternoon in 2011, when Noble approached Merced in the city square and invited him to the church service. Merced began regularly attending and enrolled in the restoration program late last year.
The regular Bible studies, leadership training, and employment at The King's Kitchen have helped immensely, Merced says. However, the most important thing he's received is hope.
"When you're on the streets, a lot of things go through your mind," he says. "You think, 'I'm not going to make it. My life is just going to be on the streets.' Now it's, 'I'm going to make this, step-by-step. I've just got to have faith.'"
The King's Kitchen is instilling hope in other residents of Charlotte. In 2010, less than a year after opening, it raised over $50,000 to give to Charlotte nonprofits that serve the hungry and homeless. Today, its staff partners with more than a dozen local ministries and organizations. It also delivers food twice a week to about 60 people. In 2011, with the help of local businesses, The King's Kitchen served about 2,500 Thanksgiving meals. To further its mission in the New Year, the Nobles recently launched The King's Bakery, a side venture next door whose profits will also go to local ministries.
"Everything we've been blessed with we're supposed to turn around and bless somebody else," Noble says. "We have the same promise that God gave Abraham—'I'm going to bless you so you can be a blessing.'
Running the Kitchen, of course, presents many challenges. Noble admits he's needed to sacrifice time with his family to oversee daily operations of his restaurants and pushes The King's Kitchen to change as many lives as it can. He's still trying to find the proper balance.
"My focus for this year is to keep my priorities straight," he says. "God's going to hold me responsible for my kids. I've made some mistakes in that area in the past. We're able to do things for the Lord, but you have to do it in line with the other things he's called you to do."
One benefit to his family, however, and to The King's Kitchen, is Charlotte itself.
Since calling the Queen City home for eight years, Noble is still moved by its spirit. He sees glimpses of what the church could look like.
"Charlotte is a very benevolent city," he says. "I've never seen a whole community of citizens that gives so much. This is a very giving city and people care."
Near the corner of Church and Trade streets, you'll find Noble and his staff doing their part, one meal at a time.
"If there's anything we can do, it's to unleash people from The King's Kitchen to go turn the world upside-down," Noble says. "If the life of a homeless man is turned around and he becomes a Paul or a Peter, that would be phenomenal, wouldn't it?"
Kevin Selders is associate editor at Ascend Integrated Media and lives in the Kansas City area.
MORE FROM CHRISTIANITY TODAY