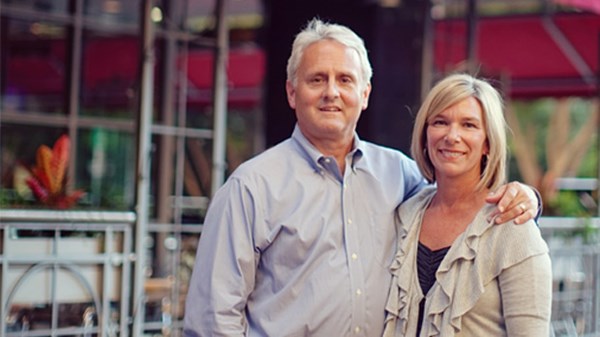 Shrimp and Grits with a Side of 'Shalom': The King's Kitchen Revitalizes Charlotte
Every aspect of Jim Noble's newest restaurant—including the food, all local—is designed to reflect the kingdom of God.
1.31.12
In the heart of Charlotte, North Carolina, near the historic intersection of Church and Trade streets in Uptown, you'll find a new four-star restaurant that feeds its city's soul.
Every aspect of The King's Kitchen is designed to bless the city of Charlotte. One-hundred percent of proceeds from lunch and dinner go to local and national ministries that feed the poor. Most of the restaurant's employees, including the formerly homeless, troubled youth, and rehab graduates, were previously unemployable. And the majority of ingredients featured on the menu—specializing in "local Southern cuisine"—come from local farmers. As the restaurant's tag line says, "When you dine, the whole community thrives."
"That's our goal—to help change people's lives," says founder and head chef Jim Noble, a restaurateur for 28 years. "Our goal is for people to see themselves as God sees them and then teach them to walk it out."
Charlotteans might suspect that with its profits going beyond the restaurant's walls, The King's Kitchen would serve mediocre fare in an atmosphere that feels reused. What customers get is the complete opposite. Both are held to the same high standards that are on display at Noble's three other local restaurants. The menu features favorite Southern classics with a modern twist, such as Shrimp and Grits, Blackened Catfish, and its famous Aunt Beaut's Skillet Fried Chicken, with dinner dishes ranging from $13 to $20.
"The Scriptures say, 'Everything you do, do unto God,'" Noble says. "So everything you do should be done in a spirit of excellence. Everything Jesus did was in excellence, so if we're striving to be like him, then we have to do the same thing."
Along these lines, organic produce from local farmers helps The King's Kitchen create memorable, (mostly) healthy food.
"As a chef, anytime I can use local food I always try," he says. "When we feed the poor we want them to have a decent, substantial meal."
Prior to opening The King's Kitchen in 2010, Noble, an ordained minister, and his wife, Karen, owned and operated three restaurants in Charlotte and Winston-Salem while leading Restoration Word Ministries and delivering a weekly radio broadcast ministry. But something was missing from their vocational calling.
MORE FROM CHRISTIANITY TODAY