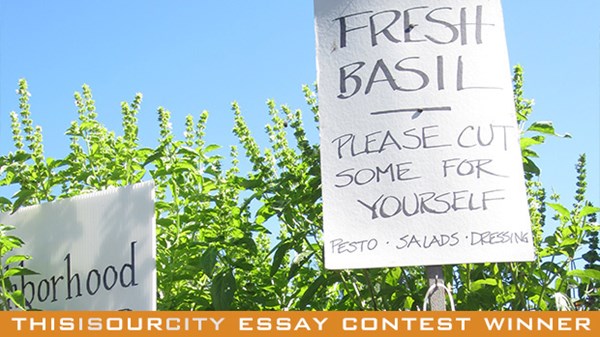 A Sliver of Shalom in the Suburbs
How my Christian community used a plot of land to plant community in an isolated neighborhood.
12.17.12
On October 6, 2010, a crack in the wall appeared—a sliver of opportunity the width of our neighborhood parkways. The City of Corona lifted its regulations and invited what they called "landscaping partnerships" between commercial and residential property owners to remove the grass from our parkways and replace it with drought-tolerant landscaping.
Parkways serve an important role in pedestrian safety, aesthetics, and "rainwater retention and percolation." Until then, Corona residents were not allowed to alter it, even though they were required to tend it. The name Devil's Strip can be traced back to the 1800s as a label for unusable land. So what do we do with unusable land? In the United States, no matter where you are, the landscape feature of choice is grass. Recent reports in Environmental Management estimate that upwards of "40 million acres of America are covered in lawns, making turf grass our largest irrigated crop." This is roughly the size of all New England—in other words, enough grass in our front and backyards—and parkways—collectively, to cover Rhode Island, Connecticut, Vermont, New Hampshire, Massachusetts, and Maine.
But as pretty as that idea may be, Corona is situated on the inland side of the Southern California coastal range in the Santa Ana Mountain watershed, where very little annual water is actually ever shed. In a state known for unwavering sunshine, Riverside County receives less than one-third of the average rainfall than all counties of California. Simply put, we are the driest county in a dry state. So, to keep our lawns green year-round requires a tremendous commitment of resources.
So, when the city opened the door to more responsible landscaping opportunities in an effort to save water, Riverbend Commons saw it as an open door to do much more. Simplicity had usually meant for us, among other things, growing what food we could on our tenth of an acre. In partnering with the City of Corona, some new acreage opened up. More than that, it seemed like an opportunity to practice Riverbend's call to hospitality.
MORE FROM CHRISTIANITY TODAY