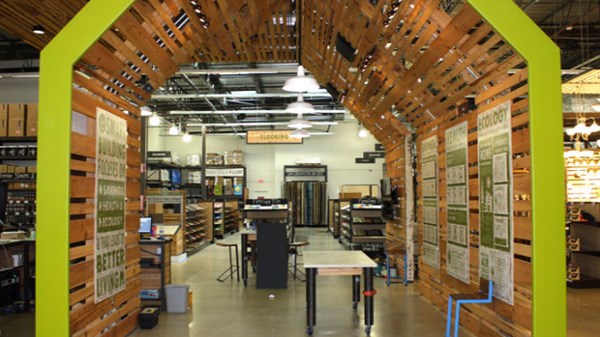 Home Improvement Meets the Gospel
How two co-founders of the home-supply store TreeHouse infuse their business with environmentally sound faith.
5.14.13
Austin, Texas—with its "Keep Austin Weird" motto emblazoned on locals' t-shirts and bumper stickers—is ground zero for a green-building revolution, due in no small part to nearby University of Texas, hipster culture, and a booming technology startup scene. The self-proclaimed "live music capitol of the world" will also be the second U.S. city to get Google Fiber, an Internet-cable plan that Google promises to be 100 times faster than today's standard broadband.
The culturally liberal enclave in a vast red state might not be the first city that comes to mind when you imagine the future of Christianity. But when you're trying to figure out what God is up to, "weird" is a good place to look. And maybe the weirdest thing about Austin is not the Google Fiber streaming in its front door, but rather the treehouse in its backyard.
Just off of U.S. highway 290 in South Austin sits TreeHouse, a home improvement supply store for "smart building and better living," specializing in environmentally conscious installations that save energy.
Since opening in 2011 and seeing $3 million in sales so far, TreeHouse is one indicator that providing homeowners with more energy-efficient and sustainable products may be a business model as economical as it is ecological.
And biblical.
TreeHouse began in 2007 in Frisco, Colorado, as Evan Loomis and Jason Ballard, two of the original five co-founders of TreeHouse, found themselves sitting in a micro-brewery instead of skiing, hatching a plan to create the Whole Foods of Home Depot.
Loomis and Ballard had been looking for something like TreeHouse ever since their days at Texas A&M University, when they became close friends in the Aggie's Men's Club, sort of a purpose-driven frat house.
"Some of us are doctors, some have gone on to formal ministry, but we all shared this conviction that we didn't want to waste our life," says Ballard.
After graduation, Ballard took his biology degree and worked in sustainable buildings, while Loomis took his finance degree to Wall Street. But in Colorado, they stumbled upon an idea that married their experience and passions to a great need.
MORE FROM CHRISTIANITY TODAY