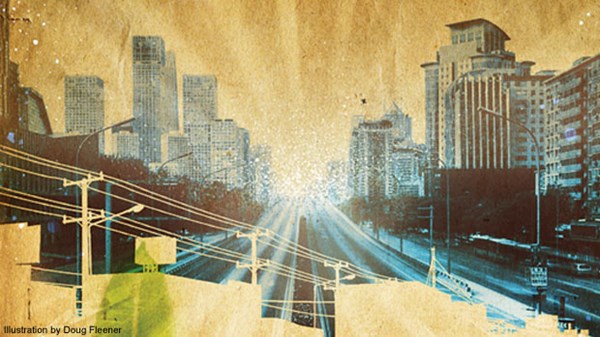 A New Kind of Urban Ministry
Christians no longer want their communities fixed. They want them flourishing.
10.28.11
Second, thriving is in the eye of the beholder. When Jesus' disciples approached Jerusalem, one of them said to their teacher, "Look, Teacher! What massive stones! What magnificent buildings!" (Mark 13:1). Jesus' reply was searing: "Do you see all these great buildings? Not one stone here will be left on another; every one will be thrown down." Days earlier, at the sight of the Jerusalem skyline, Jesus had wept, "If you, even you, had only known on this day what would bring you peace!" (Luke 19:42). He understood that prosperity is different from peace—that rich and resonant Hebrew word shalom that is perhaps best translated "comprehensive flourishing." And prosperity is very thin without posterity—a lasting legacy of flourishing. In an age where wealth can flow in and out of economies, and cities, with astonishing speed, our cities may be thriving only in the thinnest of senses.
But there is something profoundly right and hopeful about the rebirth of the American city. Cities, after all, concentrate more divine image-bearing per square inch than any other form of habitation. After the Fall, true, all image-bearing is accompanied by idol-making. But America's renewed cities, and our culture's renewed interest in what makes for thriving places, are an opportunity to recommit ourselves to the biblical mission that is meant to prepare us for the city whose builder and maker is God.
Exodus, Exile, and Expectation
The best news about Christians and the city? The church never left, even when the city was at its worst. Famously, in many struggling urban neighborhoods the only functioning institutions are churches and liquor stores. To be sure, a certain number of churches left with their members to the suburbs two generations ago, and no one seized the suburban opportunity more vigorously than evangelicals.
But most black churches stayed put in their old neighborhoods even when many of their members had left. International arrivals started their own churches in neighborhoods (and buildings) other Christians had vacated. A whole generation of community development-oriented pioneers, inspired by Dr. John Perkins, planted roots in the toughest urban locations through the darkest days of the 1980s and 1990s. In May 1992, I arrived at Penn Station in Manhattan on a Thursday afternoon just as (overwhelmingly white) commuters were fleeing based on unfounded rumors that the riots in the wake of the Rodney King beating verdict were coming to New York. I spent that weekend at prayer meetings in every borough, and at every one the churches were packed with lifelong New Yorkers and new arrivals. They were all there long before New York was so cool—committed to prayer, mission, and the flourishing of the city.
MORE FROM CHRISTIANITY TODAY