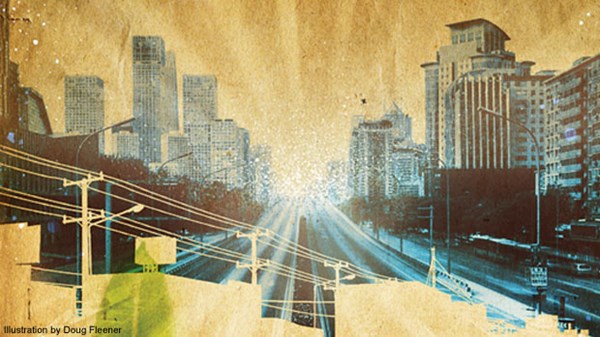 A New Kind of Urban Ministry
Christians no longer want their communities fixed. They want them flourishing.
10.28.11
The Old Testament models of Exodus and Exile are valuable in reminding us that "we have here no lasting city." It is especially helpful to embrace the lessons of Exile, with its radical suggestion that even when God's people sojourn among neighbors who want nothing to do with God, they should actively seek their neighbors' flourishing.
Yet Exile takes us only so far as a model for Christian faithfulness today. There is one overwhelmingly obvious difference between the Hebrew exiles and Christ-followers in 21st-century cities: the Hebrew exiles were captives. Churches in every American city, on the other hand, are full of proud citizens and hardworking visitors, not captives. Most of us are not hapless exiles; we are purposeful arrivals.
In such a situation, the metaphor of Exile is quite misleading. Exiles have little responsibility for the powers that be. Even the Daniels and Esthers who rise to the heights of power are always marked as outsiders. But what if God's people were among the insiders—as, in a liberal democracy, every citizen is to some extent? What if the God-fearer is not just deputy assistant to the mayor, but the mayor himself or the one to whom the mayor is legitimately accountable? At that point, the language of Exile starts to ring hollow.
Is there a biblical model, then, that describes better the situations of churches and Christians in cities today—that retains the valuable features of Exodus and Exile while accounting for our responsibility for our communities? Yes, and it is rooted in the 50 days that make us Christians—from Resurrection, through Ascension, to Pentecost. This story redefines our relationship not just to God but to our world. It is a story summed up in one word, Expectation, that keeps us rooted in and responsible for the flourishing of the world precisely because we have a hope outside of history in the usual sense.
Resurrection anchors this story. The exiles had Isaiah's words of hope for future restoration. But in Jesus' resurrection, the restoration of all things has already begun—it is not just future, but here in its earliest stages. It is not only possible, but achieved. Resurrection empowers us to live infinitely more boldly than exiles who wait to see whether God will come through.
MORE FROM CHRISTIANITY TODAY