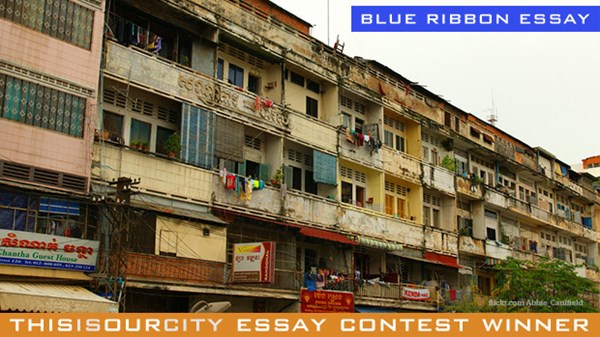 Why I Left World Vision for Finance
And why my current work matters as much as my former work.
2.22.13
In my closet is a red silk tie, manufactured by a worker in one of the many industrial factories along the perimeter of Phnom Penh. I bought it at the city's largest outdoor market on a business trip with my former employer, World Vision, a Christian humanitarian agency that serves poor communities worldwide. For all I know, the Cambodians in the factory that made my tie were the same Cambodians living in the villages I was serving.
On that trip, I was working on a project aimed at rehabilitating children and women who were victims of trafficking and child labor. But yesterday, I reached for the tie to wear to my new job as part-owner of a financial planning and wealth management firm in Atlanta. The distance between my two worlds—my former life as an international aid worker, and my current life serving some of the world's most financially fortunate—seems unbridgeable some days.
On other days, the two worlds look more similar than I imagined.
I have had the privilege of working with people on both ends of the economic spectrum, from Sudanese refugees to suburban millionaires. Yet, if poverty is understood in terms of social constructs rather than economic ones, the playing field levels between the refugee and the investment banker (an idea that Christian thinkers like Bryant Myers and Tim Keller have written and preached on). I used to define my World Vision job as bringing opportunity to the poor so they might thrive. I used to define my new job in finance as providing guidance to people so that they could make the most prudent decisions to meet their goals and leave legacies. Now I describe both my careers in the same way: creating redemptive spaces in a fallen and tangled world.
As I watched the ink dry on the papers contractually binding me to three partners entering this business, I thought back to two very different perspectives on vocation I had recently encountered. As buying a business was easily the biggest financial decision of my life, I had sought counsel. I called a trusted family friend who had given me my first summer job as a teenager. In the intervening years, his small business grew into a successful outfit. His advice to me started with a question:
Him: Are the other three partners believers?
Me: I don't know.
Him: You're a fool.
Me: (awkward pause) How do you mean?
Him: Why would you willingly bind yourself to partners if you're not sure about their beliefs? The Scripture is clear that two are not to be unevenly yoked together.
Me: (another awkward pause) Well, I suppose that is worth thinking about.
His advice neatly summed up a common perspective on Christian living: Keep yourself separated from the perils of the world. To be fair, the man from whom this advice came is a friendly and gregarious person who willingly engages nonbelievers as friends and clients, just not as partners. His advice caused me angst as the lawyers had already drafted the agreements and I was scheduled to sign within the week.
The day after this conversation was a Sunday. Our pastor referred to a chapter of Scripture that has become popular in some pockets of the PCA denomination: Jeremiah 29. God laid out how he intended for the Jewish exiles in Babylon to live: "seek the peace and prosperity of the city . . . if it prospers, you too will prosper." The false prophets during exile called the Jewish people to withdraw, to be holy and reject the prevailing culture. The secular voices of Babylon called for the opposite: reject holiness and fully embrace the culture. But then there was Jeremiah, the mouthpiece of God, calling the Jews to cling to holiness and to embrace the city.
This perspective was essentially the inverse of what I had just received. Rather than keeping myself separated vocationally, here was a call to bind oneself to the lost in this world and to seek their holiness and prosperity.
The bridge between my two careers is found exactly here: God calls his people to seek the redemption of particular spaces in each and every context. For the Jewish exiles, this meant living holy lives in a pagan city. For my own life, it meant leaving explicitly Christian ministry and seeking the well-being of Atlanta by lashing myself to the mast of this city's ship. If I am to care about myself, I must by necessity also care about my colleagues, clients, and the city in which I live.
Finding a Bigger Gospel
This perspective on life and vocation required two fundamental changes in my understanding of Christian living. First: to replace some bad theology about work and vocation that found its roots in an anemic gospel. I grew up in traditions that were influenced by the revivalist movements that emphasized the "altar moment" of Christianity. The revivalist message of hyper-condensed Christianity was borne out of the perceived urgency to save as many souls as fast as possible. There is certainly something right about remembering the urgency of salvation, but this had the side effect of creating a message that was less comprehensive than what Jesus proclaimed.
When Jesus presented himself to public ministry in Luke 4, he opened the scroll and read from the prophet Isaiah: "He has anointed me to proclaim the good news to the poor. He has sent me to proclaim freedom for the prisoners and recovery of sight for the blind, to set the oppressed free, to proclaim the year of the Lord's favor." The year of the Lord's favor comes from the Old Testament year of Jubilee – a year when the land was allowed to rest, when all debts were cancelled or restored, when slaves were reconciled with their masters and set free. Jesus' explanation of his mission certainly doesn't preclude an "altar moment," but it is infinitely more. Jesus did not come to call the truly faithful to the mission field, the less faithful to the pastorate, and the barely faithful to finance.
The second step on my path from vocational ministry to finance was revisiting the story of Adam and Eve. The first bites of the first couple severed the relationship between God and humanity. Beyond that, Adam was isolated from his wife ("the woman you put here with me, she gave me some fruit from the tree"), the world around him ("through painful toil you will eat food from it . . . it will produce thorns and thistles for you"), and even himself (Paul later speaks of the sin in him that causes him to do the things he does not want to do). The Fall paints a picture not just of a tussle between God and man, but rather the total and absolute isolation of man from all things.
Jesus did not come to call the truly faithful to the mission field, the less faithful to the pastorate, and the barely faithful to finance.
All of a sudden, Jesus came to earth not just to patch up a relationship between mankind and an offended Father, but to radically reconcile all things to himself. He came to bring redemption to institutions and individuals, to the realms of justice and law, to education and child-rearing, to farms, to cities, to finance—to everything. Jesus came to undo the shattered world in which man stands alone and isolated. This gospel refuses to be summed up in a 12-minute sermon. This is a gospel that takes a lifetime to live and an eternity to understand.
So here I sit, wearing a tie that reminds me of a very different line of work. The differences are numerous in terms of day-to-day activities. For example, I'm no longer getting dysentery on a regular basis from drinking river water. But the goal is the same: Find what is broken and work on putting the pieces back together, with God's grace.
Leaving the refugee camp for the boardroom was a complicated decision. One part of my soul condemned me: How could I justify trading a vocation of serving the poor for a career among the wealthy? Believing that finance and feeding starving children both amount to good work in God's eyes still challenges me on my best days. But then I remember Jesus' mission to conquer sin and its effects in all its forms and in every place. Fighting against economic injustice through World Vision or through a financial planning firm are both mandated by God. Both tasks are valuable, both tasks seek redemption of broken systems and fallen people. Instead of digging wells, my firm walks with widows through the jungle of probate. Instead of sponsoring children, my firm partners with families through difficult, end-of-life decisions.
In the realm of finance, the perversions are legion. Striving to create a place where the financial industry can be a balm rather than a scourge seems as daunting a task as feeding the hungry in Africa. After the 2008 economic meltdown, the financial industry feels like Nazareth: can any good thing come from it? Yet this is perhaps not too dissimilar from the perspective of the false prophets regarding Babylon. Jeremiah urges to dive in.
God has been merciful to grant me this in my new career: I spent years preaching a message to villagers in rural Africa encouraging people to work with local governments, start local businesses, work towards better school systems. And then I would fly 10,000 miles home, where I didn't know my next-door neighbors. I now have a theology of place. I now work where I live where I worship. My job allows me to see and to seek God's restoration and un-breaking of the fall in the city where I live.
Like most big decisions in life, the most meaningful manifestations of a choice are apparent in many small ways rather than in a handful of dramatic ones. The incidentals of my lifestyle have certainly changed; I have traded my dusty khakis for flat-front slacks and exchanged my tattered passport for a Georgia driver's license. But such changes have little to do with the heart. I am joining a local church instead of worshiping in different churches (and countries) each week. I am starting to learn about the issues facing Atlanta: the racial tensions, the politics of mass transportation and traffic congestion, the deep-rooted allegiance to football (that I may never understand). In order to seek the well-being of a city, one must know its history, its people, even its geography. I am new to the South and have already started to learn the very personal ways in which issues like civil rights are felt by many of my neighbors. Radical change is often banal in real life. The daily decisions to sit in traffic, work at a computer screen, read articles, have dinner with the neighbors are the component pieces of a greater whole. It will be a slow and deliberate process, doubtless lacking all the glory and excitement of international aid work. But it is in these details that life is lived and redemption is found.
Mark Sheerin is a part-owner of Sherrill & Hutchins Financial Advisory firm in Atlanta, Georgia, and a member of Westside Presbyterian Church. He is married with two children.
MORE FROM CHRISTIANITY TODAY