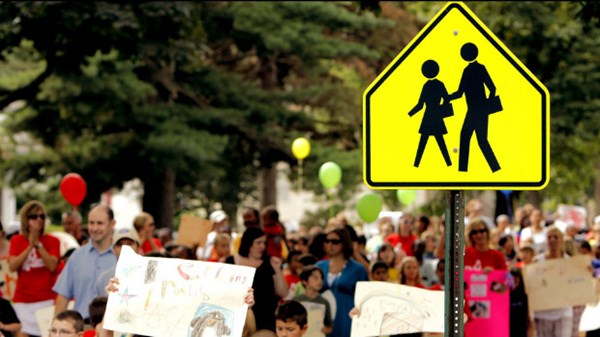 Image: Courtesy of Phil Roeder / Flickr.com
Why We Send Our Kids to the Poorest Public School
It's not just my own kids' well-being that matters anymore.
10.7.13
Because teams were formed around schools, our kids fell headfirst into a soccer team of African refugees. We now had race, class, language, culture, and religious barriers to navigate. Imagine a phone conversation something like this: "Hi. Mr. Mohammed? This is Jennifer Slate. William's mom? Yes, I'm white. Well, anyway, I'm calling because you'll need to sign up your son online for the fall season by Monday. Do you have a computer? The registration is $100, but we can probably get him a scholarship. But he needs to wear cleats instead of tennis shoes. And will you be able to give him a ride every Saturday? Oh, you work every Saturday. Well . . . I can pick him up and keep him for lunch after the game. We'll just pack some ham sandwiches. Oh, he can't eat pork."
And this was one child in a community of dozens. One of dozens who wore jeans to games because they did not have cool Adidas soccer shorts. One of many who used cardboard from cereal boxes in their socks as shin guards. One of several who asked if they could have chicken nuggets when the team went out for ice cream because it would fill their tummies better that night.
But God was already working in these places too. He had sent two families ahead of us. They had met these African families a few years prior. They had coached their teams, coordinated rides, and found grants for swimming lessons. And swim team scholarships. And extra swimsuits, goggles, caps, and beach towels. They took kids camping, and tubing, and to University of Virginia games. They became family, having kids stay with them when parents had to leave town. And they graciously let me tiptoe behind them, filling in where I could, slowly learning African geography and history, slowly remembering to buy all-beef hot dogs and pizza without pepperoni. Slowly learning how to think about children other than my own.
Is All This Worth It?
I was still crying all the time—and realizing that charity wasn't enough. I had to return to what the pastors had told me to do: Trust. Could I trust God with my children? Could I trust God with my resources? Could I trust that God himself was working for the common good?
MORE FROM CHRISTIANITY TODAY