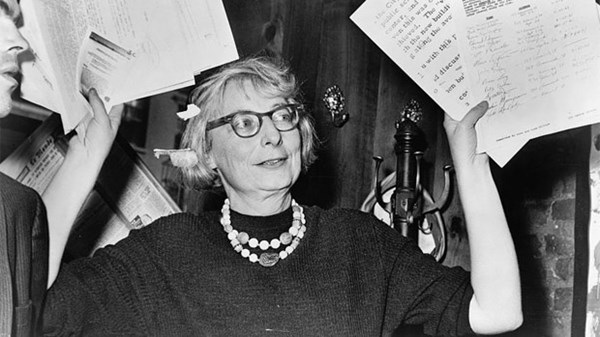 Breaking Through the Glass Sidewalk: Why Every City Needs Women Influencers
How women uniquely lead neighborhood transformation.
2.7.12
Reflecting on Jacobs' legacy, Roberta Brandes Gratz writes:

It is one thing to dwell in the world of ideas, another to actively engage in the transformations we need in our world today. Any dogged observer of American cities of the 20th and 21st centuries can't escape the discovery that women have been in the forefront of saving and regenerating American cities.
I am encouraged by these women. Some are dear friends, others are new acquaintances. All are an inspiration.
Hannah Lieder lives in the 9th Ward in Minneapolis, Minnesota, the most racially diverse neighborhood in the state, with 94 languages spoken. 9th Ward is home to the highest per-capita number of immigrants in the country and to a large Native American housing project. Nearly all (98 percent) of children are non-white and are on the subsidized lunch program. For 12 years Hannah and her husband have called this neighborhood home.
Several years ago, Hannah began to take groups of neighborhood children on afterschool outings. They went for hikes—some had never seen the Mississippi River which runs through the city of Minneapolis—roasted marshmallows, and went swimming. None of the children knew how to swim. Years ago, many urban public pools chose to shut down rather than to integrate, leaving the urban poor without a place to learn to swim. From 2000-2005, Minnesota had the highest minority drowning rate in the country, and 2011 was a near-record drowning rate for the state. Hannah, a swimmer and outdoorswoman, was horrified to learn all this. And when Hannah is horrified, she takes action. In the Land of 10,000 Lakes, every child should know how to swim.
MORE FROM CHRISTIANITY TODAY