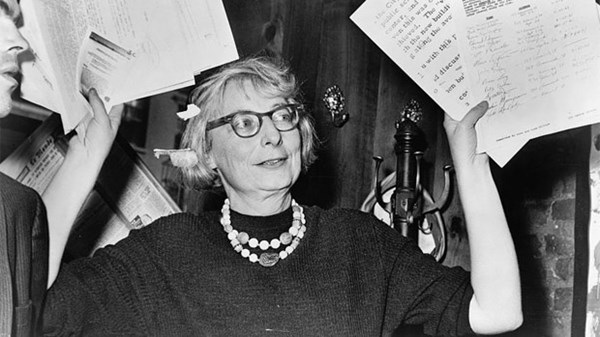 Breaking Through the Glass Sidewalk: Why Every City Needs Women Influencers
How women uniquely lead neighborhood transformation.
2.7.12
In the past three years, Hannah has pulled the neighborhood together around resurrecting an abandoned indoor swimming pool and creating an inner-city swim and training center. With $300 in the bank, a fierce sense of purpose, and a lot love for the children of the 9th Ward, "Minneapolis Swims" has come to life. Hannah built a grassroots team of other Christian friends and of neighbors, lobbied the legislature, engaged Lakota Sioux, Somali, and African American neighbors to feel empowered in the political process and to know their voices matter. She wrote bond proposals and, with hours to spare, prevented the local pool from being filled with concrete. With approval from the Parks Bureau and a growing cadre of government supporters, she now has the go-ahead to take this project forward to a major fundraising campaign, with the goal of improving lives of the 9th Ward's youth. Like Leymah and Jane, Hannah is motivated by things close to home; she has no special training for her community engagement. She is motivated by heart and call; she says, "As a woman I am patient, nurturing, and strong. These kids need that kind of love and relationship for the long haul." Hannah was just recognized as the 9th Ward Leader of the Year.
Several years ago the Ford Foundation released a study on women and community development, concluding that if women care deeply about a cause, they will often work regardless of pay or without pay. Love for swimming and kids led Hannah to something much bigger than herself. Another friend, Tamara Bryan, began to pull her BBQ grill onto the sidewalk in front of her Portland, Oregon, house once a week in the summer. She now hosts a neighborhood potluck and grill that attracts neighbors and allows them to build community. Majora Carter stumbled upon her calling to environmental and urban renewal when she discovered a neglected riverfront while walking her dog in the South Bronx. When a business venture and sense of calling took Jennifer Jukanovich and her family to Rwanda, they choose not to live in a gated community separated from poor neighbors. As her neighbors talked with her, they formed a dream together, and Jennifer invited her American friends to join. This international group of women has now teamed with more than a dozen Rwandan ladies to help them complete tailoring school and start a small sewing cooperative. Although it isn't always easy in another culture, Jennifer cared enough to slow down, listen, and learn before taking action. Her neighbors are now on the way to becoming independent small business owners who will be able to feed their children and send them to school.
MORE FROM CHRISTIANITY TODAY