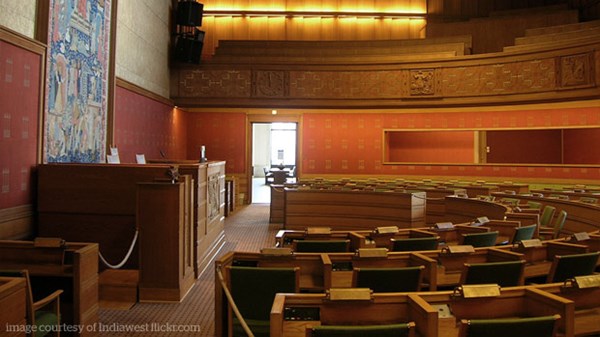 Celebrating the Unglamorous, Effective Work of Local Politics
Political scientist Amy Black says a few concerned citizens in a particular neighborhood can have far greater impact than checking a box on November 2.
1.16.12
In your book Beyond Left and Right and your recent cover story, you call politics a form of "love in action"—a way of enacting God's good intentions upon neighbors and a community. But what love looks like can vary widely among Christians in a community. How should engaged Christians proceed when love seems to take conflicting forms? How do we discern what is truly loving for a community?
In my forthcoming book, Honoring God in Red or Blue (Moody), I point my readers to politics as a means of love in action. By that phrase, I mean that representative politics offers a way for communities to come together to resolve differences peacefully. We disagree about what is best, we have competing interests and concerns, but we find a way to work together and move forward. Often politics is about seeking imperfect solutions to intractable problems. Our world is fallen and broken, and life together is messy. But representative politics can help us find ways to serve the common good and protect essential rights.
Once we start looking at individual issues, of course, the picture grows more complex. Christians can and will disagree about political questions, and, at times, they will disagree about what response is most loving to one's neighbor.
Part of the disagreement likely stems from a common approach to politics where we approach issues by first asking, "How does this affect me?" decide what is in our self-interest, and then pursue that end. Self-seeking behavior breeds conflict.
But as Christians we are called to a higher standard. We should begin with thinking about the needs of the community and the impact on the most vulnerable members of society. Who will this policy affect and in what ways? Who stands to gain the most? Who stands to lose the most? Which of the competing interests are most important for the good of the community? These aren't simple questions, but when we approach politics with a recognition that some are likely to gain and some are likely to lose as a result of a policy change, this focus can help us determine the most loving response.
Another reason for disagreement is that many policy differences are more about the best way to pursue a policy end than about what ends to pursue. For example, we can all agree that the loving Christian shares God's concern for the poor. But we may fundamentally disagree about what policy options are most loving, that is, what ways of addressing poverty are most likely to help alleviate the problem.
MORE FROM CHRISTIANITY TODAY