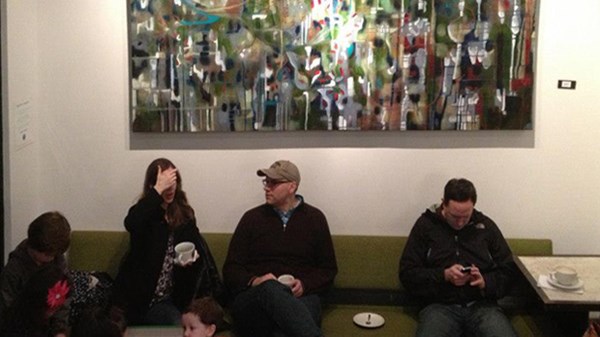 The Art of Art Collecting
Christy Tennant Krispin's show "Close to Home" aimed to take the elitism out of arts patronage.
4.5.13
White Center, on the other hand, is neither centrally located (even in Seattle) nor filled with large houses. And even at Dubsea Coffee, the art hangs on a few large walls, but mostly fits into small spaces between windows and over tables—integrated into a relaxed scene that includes a prominent message-board about local events. The art shares space with the other activities at Dubsea, reminding visitors that artists (and hence art) exist in the middle of every community, and the vast majority of paintings and prints end up on the walls of ordinary houses in cities far from centers of contemporary art culture.
Sensing that they shared a vision, Christy, a Dubsea regular, proposed to Nguyen that they take the "living side by side" concept more literally, with a public show of the art that adorns the walls of her house nearby. Christy would give a short gallery talk about the project and her thoughts on collecting, and provide a full-color "gallery guide" outlining the history of each work in the show—how each came to have a place in the Krispins' home. Though none of the works would be for sale, Christy would include contact information for the artists in a small booklet she produced and online at her website. All in all, the aim would be to show that collecting art need not be about prestige and high price tags. Instead, it can and should be about the ordinary spaces where we live our lives and the relationships we nurture there.
The Krispin Collection
Opening night, the small crowd consisted of Dubsea regulars and Christy's friends who had come to hear her talk about the work they had seen at her house. Christy began by telling the story of how she acquired her first piece of art: a canvas by an anonymous artist, tossed onto a pile of trash in Brooklyn. After checking to make sure local dogs hadn't "anointed" the unexpected offering, Krispin took it back to her sparse apartment in East Harlem and hung it on the wall. Later, that painting became a central part of what made a few hundred square feet of space a home, and she began to wonder about the artist. More than that, she lamented that the unknown painter would never know how much that work had come to mean to her. Ironically, that total lack of relationship with an artist helped define how she now thinks about patronage: as a process of connecting more than collecting.
MORE FROM CHRISTIANITY TODAY