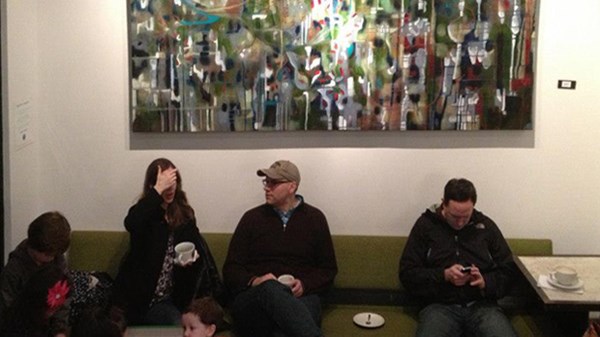 The Art of Art Collecting
Christy Tennant Krispin's show "Close to Home" aimed to take the elitism out of arts patronage.
4.5.13
Christy outlined how she came to know more and more artists personally (especially through working with the International Arts Movement), and the various ways in which she acquired the paintings and other works that fill Karl's and her home. In addition to that first piece of "found art," some have been gifts from friends or inherited from relatives, others came through benefit art auctions to which she contributed $50 or $75, and several were purchased from artists in cities she was visiting. Today the Krispins are in the process of buying one large painting via a long-term, almost incremental installment plan. In most cases, though, if she didn't already have a relationship with the artist whose work she loved, the piece became the impetus to begin one.
Christy stressed that the primary benefit of starting an art collection—for both artist and buyer—is the ensuing friendship between artists and those who value their work. Artists, like the rest of us, want to be woven into a broader community (beyond other artists), and art collecting is as much about friendship as it is an economic transaction, not limited to (sometimes) arranging creative financing for paintings or other works. In a culture that stresses the commodity value of nearly everything, connecting with artists as human beings first and foremost is, itself, a refreshing and countercultural act—one that artists deeply appreciate.
Living with art
In the illustrated catalogue of the Close to Home show, each image carries a description of how the work came to the Krispins' home, and how it continues to memorialize various moments and seasons. Indeed, as Christy gave a tour of the pieces in her house before they left for Dubsea, the story of each work was woven together into Christy's own story, from growing up in Virginia to the dozen years she spent in New York to the latest chapter in Seattle. Each artist's story is linked with the Krispins in the ordinary and concrete spaces of living room, home office, and entry hall, and a painter's "self-expression" actually helps express who the residents are, too.
MORE FROM CHRISTIANITY TODAY