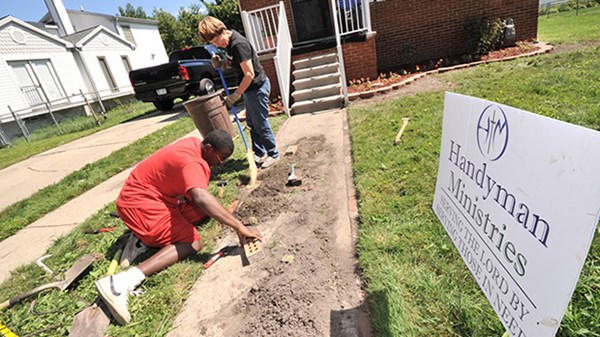 My Boss Is a Detroit Carpenter
Detroit native Timothy Addy says his Handyman Ministries provides a doorway into people's lives.
2.1.13
Handyman seeks to offer a solution for Detroiters who own a home but who cannot physically or financially maintain it. Addy and his crews—composed of volunteers and apprentices—tackle basic plumbing, electrical work, and roof and furnace repair, and also provide efficient energy upgrades and home modifications for residents with physical disabilities.
While the nonprofit works throughout metro Detroit, it focuses in Wayne, Oakland, and Macomb counties. Most of the homes are decades-old and worn down. Their current residents, Addy says, are often single parents, the elderly, or people who are sick and/or who have disabilities. Many residents recently suffered a job layoff or unexpected loss that has set them back financially, so repairs are often delayed until "things get better." Further, those who try to hire home-repair help often fall victim to cheap promises from others struggling to make ends meet in Detroit.
"I have never come across a person where all is going well," Addy says. "Every story has tragedy, loss, and pain behind how they got to where they are, and that is heartbreaking. Praise God that we can make a difference.
"There is a blessing in disguise that allows us to reflect the love of Christ and share the hope of his gospel," he says.
Fixing What's Broken
The scope of Handyman's projects range from Addy and his brother making last-minute repairs to a home they learned of by word-of-mouth, to a crew of several hundred volunteers from the EACH network—a partnership of 500 Detroit-area churches and organizations—repairing an entire block of homes.
Since joining forces with EACH in 2011, the results have been, well, of biblical proportions: In April, Addy signed on to renovate 40 homes in 40 days through the EACH network.
"God was leading me to do 40, and I'm begging him, How about 20? He said, You couldn't do 10 without me, so I ended up doing 40," Addy says. "Everything worked out perfectly. I wish I could get one job to go as quickly as those 40."
MORE FROM CHRISTIANITY TODAY