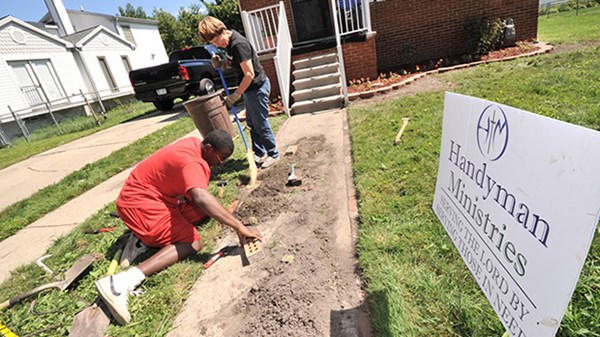 My Boss Is a Detroit Carpenter
Detroit native Timothy Addy says his Handyman Ministries provides a doorway into people's lives.
2.1.13
Some families and individuals whose homes have been repaired donate their time and abilities back to the nonprofit. Johnson now volunteers with Handyman when he can, recently helping to repair drywall in a house that sustained damage from a leaky roof.
"I was happy that I was able to help somebody else, but I was happier I was able to help Tim and whatever his vision was," he says.
While Handyman's first priority is home repair, it hopes that personal restoration, especially through building community, will take place. Neighborhood barbecues and prayer walks are common during group projects.
"One time we renovated a block with 21 houses," Addy says. "Every day for a couple of weeks we had a barbecue, and the neighbors helped each other. It just made a tight-knit community out of them. Friendships developed where neighbors lived near each other for 10 years and didn't know each other's name. Now the younger lady down the street is babysitting for this other lady who is sick with cancer."
Of course, another community he hopes to help Detroit residents find is a local church. Through the Emergency Services Church Referral Program, Addy coordinates with Detroit-area churches to provide emergency home repairs to those most in need, and if they so desire, a church home to address spiritual needs.
The latest Handyman initiative hopes to help Detroit residents find work. Through its Tradesmen Apprentice Program (TAP), Addy hopes to help youth ages 18 to 21 transitioning out of foster care, adults re-entering society, and the unemployed acquire the skills necessary to obtain a Michigan State Building Contractor License and with it, safe, permanent housing. The program will officially launch this summer with five to seven apprentices. TAP will use classrooms, hands-on field training, master-to-apprentice training, peer-to-peer mentoring, and student accountability partners to help apprentices achieve their goals. Further, Handyman will pay a wage-based allowance to participating apprentices, and will offer supportive services to help them obtain their driver's license, GED, and/or temporary housing.
MORE FROM CHRISTIANITY TODAY