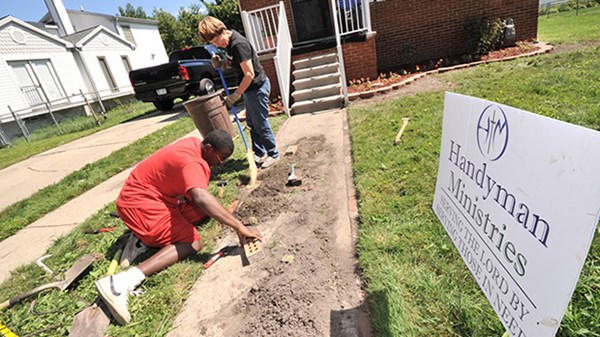 My Boss Is a Detroit Carpenter
Detroit native Timothy Addy says his Handyman Ministries provides a doorway into people's lives.
2.1.13
"With the apprenticeship program, I'm trying to create jobs, create housing, take care of some of the blight, and help with the fixing up of the houses for the people," Addy says. "That program is really holistic and tries to solve a lot of the issues at once."
Addy's passion for Handyman Ministries sustains him through 18-hour days, constant phone calls, and a waiting list that's now 2,000 homes long.
"There's been an ease that comes over me so it doesn't get overwhelming," he says. "It's a lot of work though, because seven or eight months a year I have to work for free."
In addition to the projects, Addy juggles organizing volunteers, collecting supplies, and fundraising, as the ministry is largely supported by donations.
"I'm sure I've gotten more out of it," he says. "I don't want to work for money anymore. . . . All in all it's not really a sacrifice anymore. It's a blessing."
Kevin Selders is associate editor at Ascend Integrated Media and lives in the Kansas City area. He's written for This Is Our City about a Kansas City arts company and a four-star restaurant in Charlotte, North Carolina.
MORE FROM CHRISTIANITY TODAY