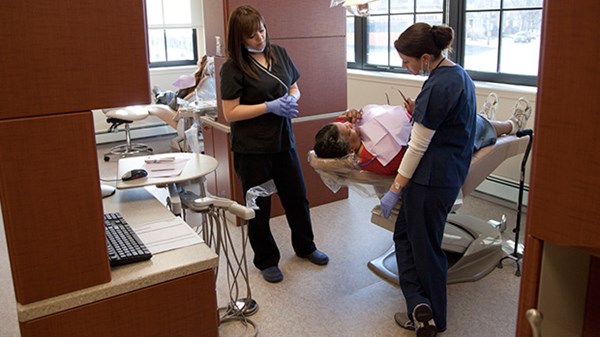 The Great Physicians of Detroit
Covenant Community Care is the only faith-based, federally funded health center in Michigan. It may also be the most Christlike.
2.8.13
"There's a tremendous need in the community, and we want to meet our consumer demand, caring for as many people who come in," said Paul Propson, CCC's executive director. "If we could hire more doctors now, we'd see more people today. A lot of people are waiting to be seen."
CCC's main campus is on Michigan Avenue in a four-story brick building the color of garnets. Once an Albert Khan warehouse, the integrated health care center is one of five CCC locations throughout metro Detroit. From the Waterman location in Southwest Detroit to Royal Oak's Woodward site to the newest venue on Moross, the CCC clientele is as varied as the buildings that serve them. Propson says 90 percent of patients are an ethnic minority, and that CCC sees everyone from children with public insurance to parents with no insurance, to Latinos, African Americans, and Middle Eastern patients, as well as African immigrants and Caucasians.
Pastor Semmeal Thomas was so moved by the care he received in 2011 at CCC that he has sent 20 to 30 of his parishioners to the facility. City Covenant Church in the Brightmoor neighborhood brought CCC medical and dental mobile units to Brightmoor as part of the EACH movement in 2011. Knowing he needed dental care and without insurance himself, Thomas waited until the last day of the EACH campaign to get treatment so that church members could go first. During a routine examination, CCC staff discovered that Thomas had high blood pressure and sent him to the ER, where he was diagnosed with atrial fibrillation.
"What we were doing for the community ended up saving my life," said Thomas. "It affirmed that God was moving in my life—that there was something more that he had for me to do."
Thomas notes a difference between CCC and other Detroit-area health centers: primarily the spiritual component. Because CCC staff at every level have committed to live for Jesus, he says, they exemplify compassion rather than mechanically getting patients in and out the door. Never once has he felt like another number.
MORE FROM CHRISTIANITY TODAY