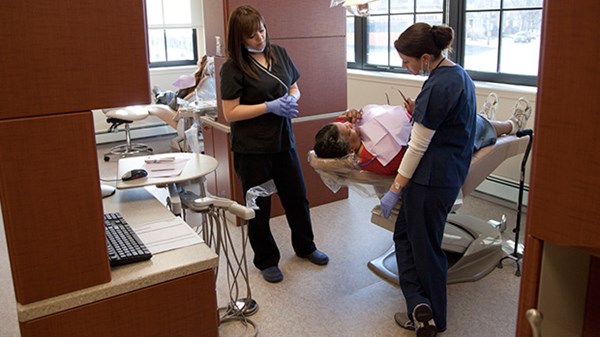 The Great Physicians of Detroit
Covenant Community Care is the only faith-based, federally funded health center in Michigan. It may also be the most Christlike.
2.8.13
"Whether or not I pay at Covenant Community Care, the same level of care is given to all," said Thomas.
Except for the homeless and children who are served in local schools, clients are asked to pay what they can based on a sliding scale; most people qualify for the base fee of $20. By paying a co-pay, Propson notes, clients participate as customers rather than charity cases. However, no one is turned away due to lack of means.
Covenant Community Care stays afloat from two major sources: the revenue from services rendered, and grant money. Many patients possess Medicaid and other types of basic insurance, which significantly bolsters the income that flows into the organization. Beaumont Health System has also been a large contributor for almost 10 years, after their staff volunteered at CCC. Propson notes that the Beaumont partnership is a great example of a grassroots response.
The Great Physicians
"When you invite God in, that's when things really change. Christ opens up many doors that doctors and counselors can't," said Lydia Best, CCC medical director.
Beyond the high blood pressure, diabetes, and obesity-related problems that are common among adult CCC patients, there are also raw spiritual needs, especially among Detroit's older generation. CCC has intentionally included prayer rooms and chapels in some facilities, and a full-time chaplain leads a prayer and healing ministry. All doctors ask patients if they want to pray, and most answer yes. But the opportunity for patients to engage and practice their faith is just that—an opportunity, not a requirement.
CCC's mission statement—"To show and share the love of God, as seen in the Good News of Jesus Christ, by providing integrated, affordable and quality health care to those who need it most"—is embossed in large letters behind the front desk. CCC staff member Rosie Verde Rios says patients frequently read the words, nodding to themselves, and comment to her after their appointment that they notice the difference.
MORE FROM CHRISTIANITY TODAY