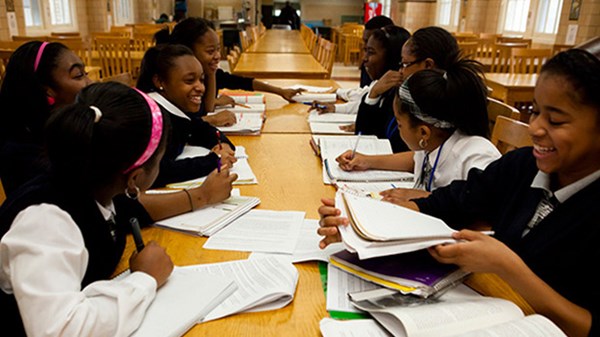 A Detroit School Where Jesus Is Head of the Class
Ernestine Sanders and Clark Durant attribute their school's success to its Christ-centered focus.
3.6.13
What can others in Detroit and beyond Detroit learn from Cornerstone? Could Cornerstone work in New York City? Chicago?
Ernestine: In a word, I'd say yes.

Clark: I'm right behind her. We are responsible for making our strategy more easily transportable. Most people are daunted because of the financial piece, to be blunt about it.
On a personal level, since running for public office and losing, I have been looking at options, and a couple of weeks ago told our foundation board that I'm staying. I will stay for the next 14 to 15 years, because I think this is what God has in store for Cornerstone and Detroit in particular, and I want to be a small part of it.
In Detroit, in a city that in many cases the world has rejected, that's where God shows up. Every example in the Gospels where God shows up, it's always when the seas are the stormiest, where there is discontinuity. It is always where there is a dislocation of some sort in a person's life and a person's situation, because it is only then that we realize we can't solve this anyway.
Our hunch about Cornerstone and your role in Detroit was confirmed for me when I walked down the hall before we started this conversation. I was talking with a young mother who walked me to your office. The kids were coming out of their classes. They were laughing and doing what kids do. I said, "I've heard this is a wonderful school." She said, "It is, it's my family." I said, "Oh, really? So how is it your family? Do your kids go to school here?" She said no. I said, "So how is it your family?" She said, "A couple years ago our home was broken into and all the Christmas presents were stolen from my family. The school provided presents to my kids that year. This is my family."
MORE FROM CHRISTIANITY TODAY