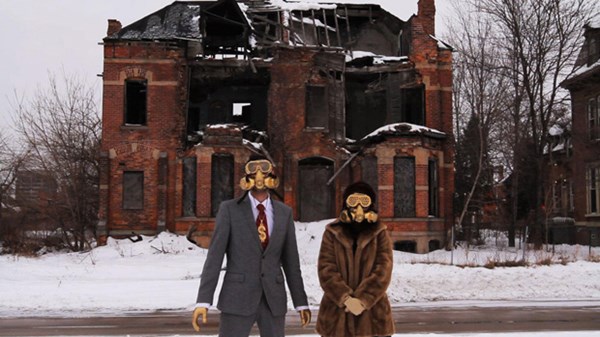 What Detropia Gets Right, and Wrong, about the Motor City
The new documentary is part of the same paternalism that it critiques.
1.28.13
Similarly, as some New York Times commenters have noted, the young men who raid abandoned buildings for scrap metal seem to have a much firmer grip on economic reality than the auto company executives. They know the current market prices for their goods, and even understand how their work fits into the global supply chain. Presumably they also make a profit.
Another standout, and moving, scene was that of MacGregor's UAW local receiving news of American Axle's new wage proposals, ones that include big pay cuts for people who are barely earning a living wage as it is. Some workers would have seen pay drop from $14.35/hr to $11/hr. $14.35 is only about $30,000 a year—hardly the wage of a labor aristocrat. Imagine trying to support a family—housing, transportation, food, etc.—on only $11/hr. Here we see the destruction of the American middle class as a work in progress. This a type of scene that's been replayed far too often across America. (The UAW rejected the proposal outright, and the plant closed.)
However, the labor scenes also show Detropia's weakness. There was a clearly one-sided presentation of the facts designed to elicit maximum labor sympathy. Detropia mentions a Cadillac plant that closed and was, according to the UAW rep, moved to Mexico. However, GM also built a new state-of-the-art Cadillac plant in Lansing in recent years that makes the CTS we see MacGregor driving. That wasn't mentioned. The film notes the large pay cuts new UAW workers are expected to take, without showing how existing workers emerged from the bankruptcies with far less damage than other stakeholders. Delphi's union retirees, for example, got a special pension top up from a bankrupt GM to keep them 100 percent whole, while non-union retirees were out of luck and saw their pensions slashed 70 percent. The UAW came away owning a good slug of GM, and the hourly wages discussed in the American Axle example don't fairly represent what Big Three assembly workers enjoy. The presentation was so one-sided and with an obvious political ax to grind it's no wonder no company representatives agreed to be interviewed by the filmmakers.
MORE FROM CHRISTIANITY TODAY