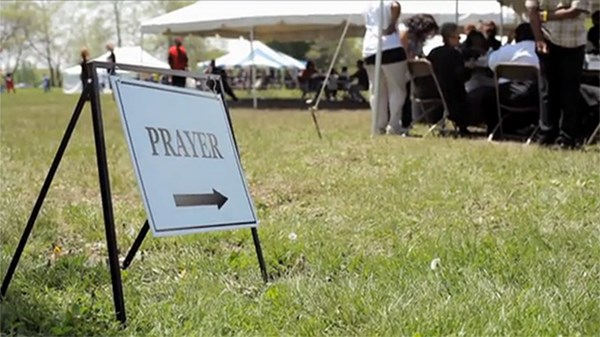 Why Church Partnerships Really Matter in Detroit
In a city Billy Graham called one of the most divided he'd ever seen, a new church-unity movement is all the more profound.
2.1.13
The homey aroma of soup fills a narrow hallway stacked with shelves of bread and crates of potatoes, as Lord of the Harvest Christian Fellowship begins another day of feeding whoever comes.
Associate pastor Janine McLatcher stirs a pot of sausage-lentil soup in the lunch room, enough for the two dozen seniors she expects in a couple hours at her suburban Detroit church.
"They make me do soup," McLatcher says cheerfully in her bright orange apron. "If I do anything different they don't like it."
Out in the hall, Patricia Johnson leans on a cane as she fills two big bags with groceries for herself and two sisters. Five knee surgeries hobble her, but she's the only one who can drive to this little church in working-class Warren on Detroit's northern border.
"I'm very thankful for this place," says Johnson, 65, her head wrapped in a red scarf on this near-zero morning. "It is good that people are able to come and get help, because it's going to get worse before it gets better."
She speaks with the weary wisdom of a former Detroit resident, who once worked in the fabled Hudson's department store before it was demolished in 1998. "That was some good days, for real," she adds wistfully.
Pastor Mike Osminski takes in her story, variations of which he hears from the 250 to 350 families this pantry serves monthly. But beyond the familiar narrative of thinned-out cupboards and foreclosed homes, he sees good days coming again for metro Detroit, thanks to a new, powerful parternship of urban and suburban Christians.
It's called Everyone A Chance to Hear – EACH for short – a network of 500-plus churches and ministries that has cast a net of outreach over more than 3.5 million Detroit-area residents. In seeking hearts for Christ, EACH leads with deeds: food and clothing pantries, medical clinics, housing rehabs, and neighborhood clean-ups, while social media, prayer walks and T-shirts deliver the gospel. In so doing, EACH has united Christians from city and suburbs in a region long riven by race and class.
For Osminski, the son of a tire factory worker and former Detroit school teacher, the initiative holds great promise for bridging the divides to revive a once-mighty city.
"There's a collaborative endeavor among the churches and people that I believe is God working to provide a gospel answer for the city of Detroit," says Osminski, a friendly Jesus Movement vet in jeans and a hockey jacket. "That's where the hope lies."
Organizers hope EACH helps revitalize a city teetering on bankruptcy and ravaged by unemployment, abandonment and crime. What began as a one-year evangelization campaign in 2011 has become an ongoing movement to make Jesus a major player in Detroit's renewal.
Spearheaded by a white suburban pastor and a black urban minister, EACH takes as a challenge a 2009 Time magazine story dubbing Detroit "an icon of the failed American city." Its website proclaims, "The time is now to show a watching world that Metro-Detroit has found a way to rise from the ashes . . . and that 'way' is more than inner-city green spaces and smarter cars."
The Motor City's proud legacy as the city that moved the world can provide a spiritually infused model for the future, says Chris Brooks, a Detroit pastor and EACH leader.
"We can move the world again," says Brooks, pastor of the 1,500-member Evangel Ministries on the northwest edge of Detroit. "But this time it won't be just about building automobiles. It will be about building people."
Laying a Spiritual Foundation
It started in 2009 on a whiteboard at Oak Pointe Church in Novi, a fast-growing suburb sprawling with office parks and a destination mall. Bob Shirock, senior pastor of the mostly white, upper-middle class congregation of 3,200, drew a 12-mile circle around his church and asked: How do we give all these people a chance to hear about Christ? Replied a worship leader, Why do this alone?
Why indeed? Shirock thought. After all, his outreach vision had been inspired by Bekele Shanko, a Campus Crusade director in Africa who led a massive evangelism campaign in 2002. Operation Sunrise reportedly reached 64.5 million people with the gospel in 22 countries.
Several pastor lunches later, Shirock found himself with a movement on his hands and, in time, a Detroit minister at his side. Brooks had seen Detroit's population plummet and its buildings empty over his lifetime. But he also sensed the city desperately needed its churches to step up, and that Detroit's Berlin Wall moment had arrived.
"There were some racial walls that were ready to come down," says Brooks, 36. "We were the generation that was privileged enough to be able to say, Hey, tear down those walls between the city and suburb. What's 8 Mile but a road?"
The city's northern boundary, made famous in the 2002 movie 8 Mile, starring Detroit rapper Eminem, has been more code than road, the symbolic divide between more and less, white and black. North of it lie middle class and affluent suburbs like Birmingham, where Shirock grew up.
With Brooks offering to head up an urban wing, Shirock's vision of one suburban church's outreach grew to hundreds on both sides of 8 Mile. It would be a true partnership, not suburban forays into the city "with photo ops."
"The mission pulled us together," says Shirock, 58. "We [had] a job to do, so instantly we found ourselves unified."
That in itself was remarkable though not entirely new. Since 2006, two dozen city and suburban churches have teamed in the Detroit Partnership (sponsored by the Institute for Black Family Development) to train Christian leaders and deliver neighborhood services. But nothing on the scale of EACH has happened before, local leaders say.
"It is very unprecedented," says Dion Williams, a former liaison to the faith community for Mayor Dave Bing. "It's everyone coming together to build up God's community. I think they're doing a phenomenal job."
By 2011 some 540 congregations and ministries from three East Michigan counties were on board a volunteer-run nonprofit led by an executive team. A prayer walk on Palm Sunday weekend drew an estimated 25,000 people to Comerica Park, home of the Detroit Tigers.
They followed up after Easter with 40 days of service and evangelization: a mobile medical and dental care unit; resource fairs offering everything from clothes to haircuts; 40 homes rehabbed and 65,000 meals served with partner agencies.
EACH volunteers were gospel ambassadors, wearing T-shirts bearing messages like "Accepted? Accepted" that also popped up on billboards, buses, and 75,000 coffee sleeves. The 2WordStory campaign solicited personal testimonies from believers, who posted their stories on 2wordstory.com.
Helping people opened the door for conversations about Christ, Brooks says: "We have to earn the right to have people listen to us."
That said, leaders say a spiritual foundation must support Detroit's rebuilding.
"None of us believe it's going to find whatever glory it had in the past through casinos and sports," says Wally Hostetter, EACH's executive director and only paid staffer. "We're praying for God to come in and establish truth there."
A second prayer walk last year drew a smaller turnout, but 1,800 families came to a "Lovin' the D" resource fair for job counseling, medical care, prayer, and 4,000 boxes of food. Meanwhile, EACH volunteers have fanned into neighborhoods, repairing porches, planting flowers, and feeding people by working with established agencies.
Forgotten Harvest, a secular food-rescue agency, teamed with EACH to provide more than 1 million meals in underserved areas.
At Detroit's House of Help, a vacant school in a neighborhood riddled with vacant houses, volunteers unload pallets of produce, peanuts and tofu trucked from Forgotten Harvest. Pastors Ray and Toni Anderson oversee the food pantry in this multipurpose ministry/church/relationship incubator.
Junita Myrick directs the sorting of boxes across an old gym floor for the 100-plus families expected this afternoon. Her helpers include a teen doing court-ordered community service and a retired couple from suburban Northville. Myrick's children attend a tutoring program she helps run at the ministry, reciprocating help she's received here.
"It starts off with us giving, then they see we're real," says the married mother of five.
Longtime neighbor Deborah Miller started coming to House of Help after getting cut off food stamps. Pastor Toni recently helped hook her up with a free refrigerator.
"I think we're back to 1930," Miller says grimly. "People just seem to keep getting poorer and poorer, and there's less and less help."
Helping the poor is the heart of the Andersons' ministry. Thanks to EACH volunteers and the support of Oak Pointe Church, they've been able to meet mushrooming needs including a threefold increase in pantry clients. EACH has brought Detroit churches closer in a network of service and relationships, Toni Anderson says.
"The only way Detroit can come back is if we have unity, building relationships and building the community," she says. "I believe Detroit can be transformed."
Tim Addy is a contractor who's renovated House of Help and nearby houses. By plugging into EACH, his Handyman Ministries has renovated more than 200 houses.
During a recent bitter cold snap, Addy installed a new furnace for a retired couple down the street from Lord of the Harvest in Warren. They had been huddled around their stove and a space heater, makeshift measures Addy says cause many fires each winter.
"We finish a job and pray with the family," says Addy, a lifelong Detroiter. "Every job is like testimony after testimony."
This summer he'll help renovate a block of Detroit homes around a newly constructed one in a joint project with Life Remodeled, another EACH partner ministry. But Addy has plenty of work in economically depressed south Warren, where Lord of the Harvest sits a half-mile from 8 Mile.
One Macomb, an EACH cluster of 40 Macomb County churches, in September targeted that neighborhood and its elementary school for a blitz of yard cleanups, house fix-ups and prayer. The City of Warren got fully behind the effort.
"Government can only go so far," says City Councilwoman Kelly Colegio. "The church can go one step farther and fix the spiritual problem that is the root cause."
At Lord of the Harvest, Colegio has helped Mike Osminski set up a Neighborhood Watch program and get a grant for a community garden. Osminski considers his neighborhood of transient renters and working poor his parish.
"We're not just pastoring a church; we're pastoring a neighborhood," Osminski says.
Back at Oak Pointe Church in Novi, Shirock and Brooks speak of new EACH plans: a push for marriage and family, including conferences, prayer vigils, and counseling. The prayer walk is taking a year off and the budget considerably downsized from the $1 million marketing blitz of 2011.
But both pastors say EACH is very much on the move: Argentina has launched a similar effort; Crossing London – Mission 2013 has consulted with them; and Franklin Graham has inquired about a Detroit crusade. That's a sign of progress made since Billy Graham was rumored to have said he'd never return to such a racially divided city, Brooks says.
He and Shirock have faith in a risen Detroit that will reflect the biblical quote on its iconic Spirit of Detroit statue: "Where the spirit of the Lord is, there is liberty."
Charles Honey is the religion columnist for The Grand Rapids Press/MLive.com. He writes at Soulmailing.com and tweets at @myhoneyworld.
MORE FROM CHRISTIANITY TODAY