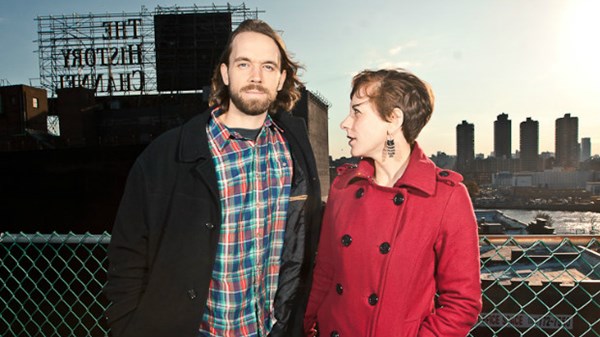 Image: Courtesy of sparkandecho.org
Bringing Scripture to Life in New York's Arts Scene
How Jonathon Roberts and Emily Clare Zempel are creating the largest multidisciplinary illuminated Bible.
9.9.13
Imagine a trendy art gallery on a busy Manhattan street. The space is packed with artists and art enthusiasts chatting about the artwork. Soon a performance begins, with experimental music and dance, then a poetry reading followed by a short film. The energy in the space suggests the birth of a new avant garde movement, a hot trend in the NYC art world on the verge of being discovered.
Now imagine all these people are talking about the Bible. In fact, all the artwork around them has been inspired by Scripture.
That's the kind of magic that occurs at a live event hosted by Spark and Echo Arts.
Jonathon Roberts and Emily Clare Zempel, founders of Spark and Echo, say their live events attract both Christians and non-Christians "from all walks of life," says Zempel. At a recent event in January, it "was neat to see all that energy packed into this theatre/gallery space downtown. People were just really talking about the work. We had to kick them out at the end. They wouldn't leave. That's the kind of energy behind the project."
God's Spark, Our Echo
Since its inception in 2010, Spark and Echo Arts has commissioned 90 artists to create work inspired by passages from the Bible. The artists have engaged other artists to help them create their works, involving over 200 artists, believers and nonbelievers, total. The organization also hosts 12 rotating curators who select the artists, and a host of informal volunteers that help organize the 2-3 live events that occur each year around New York City. They are supported by various grants, donors, product sales, and special events.
The goal of Spark and Echo is simple and provocative: to illuminate every verse of the Bible using visual art, music, poetry, dance, theatre, film, and literature. The idea of "illumination" comes from the ancient and medieval practice of embellishing important manuscripts with borders and illustrations. The organization name, Spark and Echo, refers to the Bible as the spark of inspiration and the artist's response as an echo back to the text.
Every Monday, a new work is released on Spark and Echo's website, totaling 52 works a year. Roberts and Zempel say that at their current rate, it will take 20 years to cover every verse in the Bible.
But they hope the project doesn't stop there. Artists are encouraged to respond creatively to works already in the collection, exploring the Bible further as part of a growing creative conversation.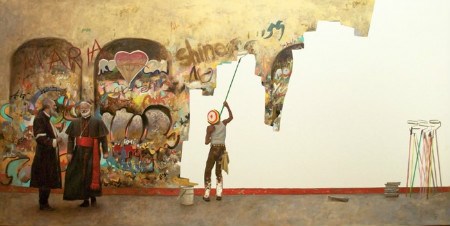 Image: Courtesy of Steve Forster / sparkandecho.org
Spark and Echo is unique among faith and arts organizations in New York City. "One of the things we provide is the opportunity to make stuff," says Zempel. "There are a lot of groups that focus on discussion, and for good reason . . . . But our group is more about the doing and the making, and that's unique in the [faith and arts] community."
This summer Spark and Echo presented an improvisational dance and music performance by composer Evan Mazunik, who was inspired by Ecclesiastes 9:17: "The words of the wise heard in quiet are better than the shouting of a ruler among fools." The work is called "Among Fools: A Subrational Soundpainting" and involved over 15 musicians, actors, and dancers.
Taking Risks
When Roberts and Zempel started Spark and Echo, they weren't sure if non-Christians would want to get involved. But their early worries have proven unfounded.
"Non-Christians are open to creating works on the Bible if you ask them and are truly interested in them as artists," says Roberts. "Organizations are open to partnering with you if they see that you're a quality organization and the art is good. A lot of the hang-ups we thought existed in the city about the Bible and Christianity haven't been true."
Roberts and Zempel understand that inviting non-Christians to respond to the Bible requires vulnerability.
"If you tell a non-Christian, 'Here, take this passage, create what you like, and respond honestly to it,' it's a little bit of a risk that what they're going to create will be offensive to somebody," says Roberts. "The artists that we choose are all excellent, insightful, respectful artists, but they all have their different voices. And the works that come out may not exactly jive with how some Christians saw the passage."
What surprised Zempel and Roberts was how many Christian artists in New York keep their faith a secret or separate it from their creative practice. The Bible is often dismissed as a source of inspiration by non-Christian and Christian artists alike.
"There are a lot of people in the city who are afraid of letting the cat out of the bag that they are a Christian," says Zempel. "Because they think it will affect their art career. I think that's a little bit of a myth. And God doesn't want us to hide. He's taking care of us."
Spark and Echo enables Christians to bring their faith into their art within a supportive community. "We're surprised at how many artists who are Christian have never created art on the Bible. They keep their art and their faith in really separate camps. This is a great excuse to explore those together. I think it's made the community stronger."
A Greater Story of Light
When you decide to engage with every verse of the Bible, surprises and challenges are bound to emerge. Roberts and Zempel realize that more difficult passages will be confronted as the project unfolds. Musician Cameron DeWhitt responded to the Gospel story of Jesus cursing the fig tree, a passage that has baffled many interpreters. His song, "Fig Tree," asks why God sometimes does things that don't make sense.
Dark or sorrowful passages of the Old Testament require the trust of the audience and the ability to see the project as a whole.
"It has been a challenge and it will continue to be a challenge to our audience to stand by the project and stand by the artists who are responding to passages that are very unsavory," says Roberts. "We hope that people will understand the project well enough and that we'll explain it clearly enough that they will be on board. We hope that they'll say, 'This is worthwhile to respond to this passage that is full of darkness. That specific moment is part of a greater story of light, but that moment is full of darkness.'"
And then there are the lists and genealogies. This fall, one artist deliberately chose a genealogy to illuminate. "I was very excited when he chose it," says Zempel. Roberts was too. "It's fun to see the artists who want a special challenge, who want the passages that others overlook."
Like many New Yorkers, Roberts and Zempel are transplants. Both moved from Wisconsin to pursue creative careers.
"What I like about New York is that most people are here chasing something," says Roberts. "There's a big energy here, people coming here and giving 100 percent."
Roberts and Zempel stress the importance of community. "It's really easy to be a loner as an artist," says Roberts. "[New York] is a tough place to live if you don't have a community." Jonathon and Zempel attribute much of their longevity in New York City to the many friends they have made in the community. Spark and Echo also provides that supportive community for artists and an opportunity to create work.
They offer a small honorarium for each work. "It's small, but it is a gesture that we really appreciate their work, and that we take them seriously as professionals," explains Emily. "I think it makes a big difference for those who want to be involved. It's a respect thing."
Further, they have partnered with civic organizations such as the Metropolitan Water Alliance, which works to promote access to clean water in the New York area. Spark and Echo has performed works related to water and the Bible during their annual City of Water Day on Governors Island. "We thought, let's try to partner with them and integrate the Bible and the arts naturally into public life in New York City," explains Roberts. "We reached out and they were very receptive," says Zempel.
"A big part of our mission is to bring the Bible into the regular culture around us. Partnerships are a good way to do that," says Roberts.
A portion of the funding for Spark and Echo Arts comes from Roberts and Zempel's band, which performs in churches, at colleges, and in venues across the city to promote Spark and Echo Arts. [Editor's Note, 10/15/2013: In 2012, Spark and Echo also received funding as winners of the Entrepreneurship & Innovation Business Plan Competition, hosted by Redeemer's Center for Faith and Work.] Their songs prove by example the way that exploring the Bible through the arts can serve the common good of the city.
"You can sing the Bible in a club in New York City," says Roberts. "And it comes across as these epic stories and this beautiful poetry, and people get really excited about it and engage with it. We know the Bible has so much power. We know it does, but then to see why it does—it's because the words are powerful."
Ryan Pendell received his MFA in writing from the Art Institute of Chicago in 2009. His poetry has been published in Christian literary journals nationwide. He blogs about religion and culture at New Religion and Culture Daily.
MORE FROM CHRISTIANITY TODAY