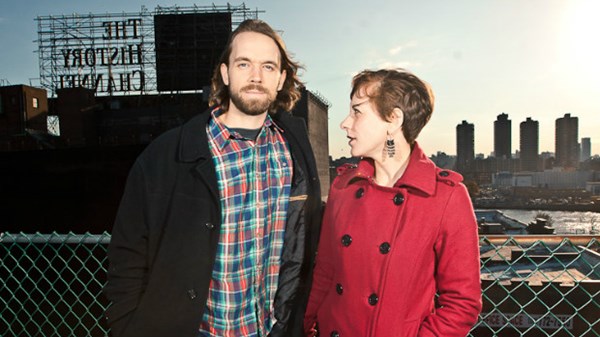 Image: Courtesy of sparkandecho.org
Bringing Scripture to Life in New York's Arts Scene
How Jonathon Roberts and Emily Clare Zempel are creating the largest multidisciplinary illuminated Bible.
9.9.13
Imagine a trendy art gallery on a busy Manhattan street. The space is packed with artists and art enthusiasts chatting about the artwork. Soon a performance begins, with experimental music and dance, then a poetry reading followed by a short film. The energy in the space suggests the birth of a new avant garde movement, a hot trend in the NYC art world on the verge of being discovered.
Now imagine all these people are talking about the Bible. In fact, all the artwork around them has been inspired by Scripture.
That's the kind of magic that occurs at a live event hosted by Spark and Echo Arts.
Jonathon Roberts and Emily Clare Zempel, founders of Spark and Echo, say their live events attract both Christians and non-Christians "from all walks of life," says Zempel. At a recent event in January, it "was neat to see all that energy packed into this theatre/gallery space downtown. People were just really talking about the work. We had to kick them out at the end. They wouldn't leave. That's the kind of energy behind the project."
God's Spark, Our Echo
Since its inception in 2010, Spark and Echo Arts has commissioned 90 artists to create work inspired by passages from the Bible. The artists have engaged other artists to help them create their works, involving over 200 artists, believers and nonbelievers, total. The organization also hosts 12 rotating curators who select the artists, and a host of informal volunteers that help organize the 2-3 live events that occur each year around New York City. They are supported by various grants, donors, product sales, and special events.
The goal of Spark and Echo is simple and provocative: to illuminate every verse of the Bible using visual art, music, poetry, dance, theatre, film, and literature. The idea of "illumination" comes from the ancient and medieval practice of embellishing important manuscripts with borders and illustrations. The organization name, Spark and Echo, refers to the Bible as the spark of inspiration and the artist's response as an echo back to the text.
MORE FROM CHRISTIANITY TODAY