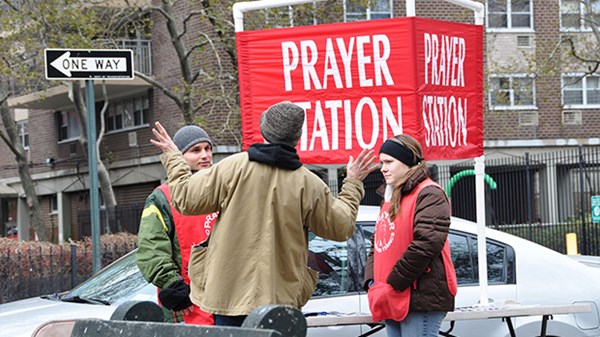 Hurricane Sandy Unites New NYC Churches
Pastor Pete Armstrong says his church's relief efforts are among many common-good decisions to bless the Lower East Side.
11.29.12
What's the mission of Dwell Church?
Dwell Church is about connecting the mission of God to the Bowery. We see ourselves as called to transform lives and see New Yorkers come to faith with all that that means, and see the whole community transformed. That comes out of our theology and practice, so we're dreaming in the next years to get community centers started, to connect the wealth and the resources that are moving into the Bowery with the folks who have been here for decades. Part of my calling to New York has always been to serve a diverse group of people—the very wealthy to the very poor—different racial backgrounds and make-ups, and to connect them to God and to each other.
How did you, Guy Wasko, and Rick del Rio [pastor of Abounding Grace Ministries, another key leader in the relief effort] convene around storm relief?
The day after Sandy hit hardest, that Tuesday [October 30], we basically said, "How can we serve our neighbors?" Our neighbors expected us to band together. Guy wrote a note [cited above] to us that said, "Maybe God has us here for such a time as this. And maybe this is our opportunity to step in."
I underestimated how bad the storm would be. We were wrapping our minds around the reports. So even though those of us at the church had to take care of our families, we knew we could step in and serve, and we could just walk over there [to the food/water distribution points] at 10th Street and Avenue D to help.
That's the great part about New York: Even when the subways are shut down, we can catalyze 12 people from Dwell and walk over to join dozens more friends from other churches.
I brought a guy—a real estate agent—who's been an occasional attendee at Dwell who said, "I'm not going to sell any apartments this week. Would you like me to help?" It was a great time to bring believers and nonbelievers [together]. People were excited to do this. They were excited to get the word out on social media. They wanted their families to know they were okay, but they also wanted to help those who had real needs.
MORE FROM CHRISTIANITY TODAY