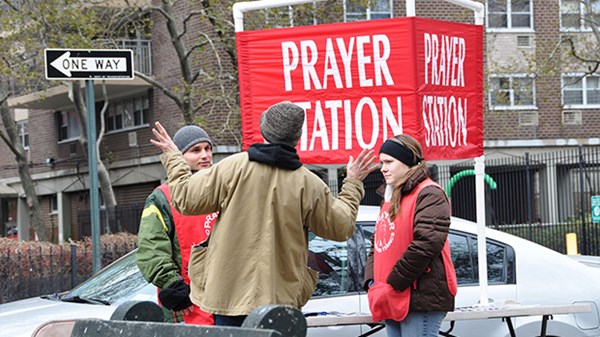 Hurricane Sandy Unites New NYC Churches
Pastor Pete Armstrong says his church's relief efforts are among many common-good decisions to bless the Lower East Side.
11.29.12
'God is doing something beautiful in New York. The old guard has been amazing to those of us who are new.' ~ Pete Armstrong, Dwell Church
What are some of the aspects of the East Village and Lower East Side that most of us who don't live there don't know?
The area between East Houston Street and 14th Street along FDR Drive is the largest grouping of public housing in the country. [The NYC Housing Authority, or NYCHA, was created in 1934. At the end of 1935, NYCHA created its first development, called First Houses, on the Lower East Side. The Authority boomed under Robert Moses' guidance after World War II as a part of "slum clearance."] In order to qualify to live there, you have to make less than $8,000 per year—that's $500 per month, in New York. At Dwell, we've just now dipped our toes into ways we can help schools and families, through arts and music programs.
When Sandy hit, I had heard others say, "It's like a war zone." To see 300 people line up—in New York City—to get the basic necessities. I had never seen anything like that before.
What has surprised you most about this area of Manhattan?
I've been surprised by the rapidity of change. New York City is always under construction and changing. Even so, it seems like every month, a lighting or hardware store is going out of business, and a new business is coming in. Or an older building is getting bought and torn down, and a new luxury building is being erected. We're losing some of the history, because the Bowery is where so many influential aspects of arts and culture have come from, everything from Bugs Bunny cartoons to Patti Smith.
MORE FROM CHRISTIANITY TODAY