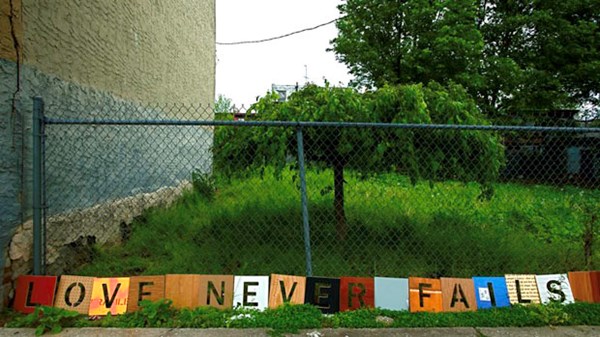 The Word on the Street in Manhattan and Philadelphia
NYC artist Gene Schmidt brings the words of Zechariah and 1 Corinthians to two urban landscapes.
1.6.12
Over the past few years, New York artist Gene Schmidt has embarked on a series of projects that have taken his work to the streets. Combining elements of performance, pilgrimage, and sculpture, his projects are often inspired by, or are explorations of, biblical texts in the context of an urban environment. While these projects are done in public for anyone to see and respond to, for Schmidt they are spiritual journeys and lengthy prayers with physical weight and dimension.
In Manhattan Measure, the first of these journeys, Schmidt measured the width and length of Manhattan—literally, with yardsticks. Inspired by the prophet Zechariah's of a man going out to measure the width and length of Jerusalem, and ending with a cross-shaped sculpture made with the nearly 30,000 red, numbered yardsticks used, the project took over a year to complete.
Next, Schmidt was invited to Philadelphia to propose a project. In thinking about the City of Brotherly Love, Paul's great text on love from his first came to Schmidt's mind. Using panels of scrap wood, each with a letter cut out like a stencil, Schmidt constructed a copy of the entire text. The text was spelled out by leaning the panels against buildings, walls, and fences, and was repeated over a six-mile journey through the city, composing "Lovetown PA."
This Is Our City's Christy Tennant interviewed Schmidt about his work. Special thanks for the accompanying images to Alicia Hansen, who has documented both of Schmidt's projects.
When did you complete Manhattan Measure? How long did you work on it?
I completed Manhattan Measure in January 2008. A documentary about the project has been screened at several film festivals around the country, but I haven't found a place to show the sculpture along with the photographs and film as a complete exhibition, so in one way I feel like it is still unfinished.
Lovetown PA was completed in October 2010. I made four trips to Philadelphia over five months, and spent 12 days doing the project on the streets. Before I could begin in Philadelphia, though, I spent about a year of evenings and weekends collecting and preparing the scrap wood for the panels.
MORE FROM CHRISTIANITY TODAY