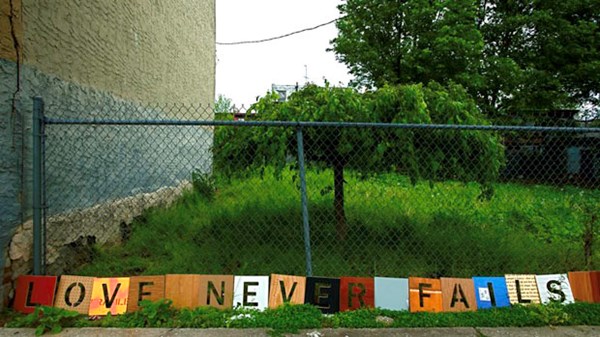 The Word on the Street in Manhattan and Philadelphia
NYC artist Gene Schmidt brings the words of Zechariah and 1 Corinthians to two urban landscapes.
1.6.12
How does your faith inform your work? What role does your faith play in your creative process?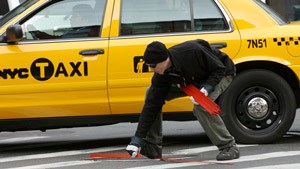 I've been re-reading Daniel Siedell's book God in the Gallery. In that and his other writing, he talks about art as a liturgical or ascetic practice. In other words, the work is not merely informed by, or illustrating one's faith, but making art is a way of actually practicing one's faith. I've been trying to approach my work in a similar way. Lovetown PA was primarily an opportunity for me to meditate on Paul's text in a new way. I could have spent a year reading and studying that text at home, but collecting the wood, assembling the text, loading and unloading 1,600 pounds of letters, setting them up and taking them down over and over, gave me a relationship with those words that I never would have had otherwise.
Obviously, it was an art project, and there was a public side to it, but I got the most benefit from it. That sounds kind of selfish, but it's just the way it works out.
For someone who has not really taken time to consider the role public art can play in adding a sense of flourishing to a public space, how would you suggest someone approach public art?
I'll offer an example from Lovetown PA. As I was out working at one point, a car drove by and the driver honked the horn and shouted "amen" out the window. Now, I truly appreciated the gesture, and I know the text is much loved by many people, and I won't assume I know exactly what that person was trying to say. However, if a person, including myself, reads that text without having at least a moment of sober introspection, then it is a missed opportunity for that person. When something other than an advertisement gets our attention and nudges us out of our routine, it can be an opportunity to meditate on something important, even if for a moment. It's the same kind of opportunity as when a funeral procession goes by. It's not the only way to approach public art, but it's not a bad place to start.
MORE FROM CHRISTIANITY TODAY