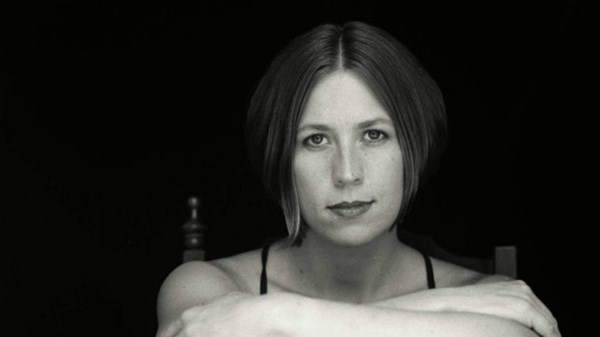 Image: Courtesy of Elizabeth Dishman
A Modern Dancer Embraces Motherhood
How NYC choreographer Elizabeth Dishman has thrived doing both.
9.30.13
Like many other dancers and choreographers, Elizabeth McCune Dishman grew up in the world of ballet. In college she joined the dance ministry at her church in Atlanta, which led her to add a dance minor to her vocal performance degree at Emory University. It was in Atlanta where she founded Coriolis Dance Inc., where she's served as artistic director and choreographer since 2001.
Moving to New York City four years later with her husband altered the rhythm of her work. The Dishmans' first son was born less than a year after they arrived in Williamsburg, Brooklyn, in 2005. Three years later, they had a second son. Raising two children in a city that's notoriously difficult for the task, Dishman has nonetheless choreographed, produced, and presented two evening-length works, "Ribs" (2008) and "Requiem Familiaris" (2012), as well as numerous shorter works. All show how Dishman has folded the events and concerns of family life into her creative work.
Dishman recently spoke with Luann Jennings, founder of Church and Art Network, about modern dance, calling, and how her work serves her NYC neighbors.
What about modern dance captured your imagination and compelled you to devote your life to it?
Modern dance opened up a world of movement that was verboten in ballet. I was fascinated by its poetic potential and physical freedom, which embraced improvisation, collaboration, and the surprises of the moment.
I'm enamored of the human body—its architecture and mechanics, its capacity for expression and connection, its communicative potential. I love that the many flavors of modern dance reflect their makers, whose unique body structures and propensities shape the way they explore and invent movement. Modern dance celebrates the individual body while embracing the endless movement possibilities present in every body.
How and when did God call you into arts leadership and entrepreneurship?
The sense of call has been very gradual for me. I initially entered the entrepreneurial world out of necessity, since there just didn't seem to be a place for what I wanted to do at the time … but looking back I can see God's design for me in my personality and gifting.
I'm not sure I fully understood it as a "call" until recently. Family life has changed everything. It would make everything so much simpler just to move on and plant both feet firmly in the mothering world, even for a handful of years. But I've continued to sense God nudging me in this direction, thankfully.
I've heard this call through the sense of health and vitality I have when I'm working (and depression when I'm not), deep successes in some of my recent work that really touched people, and several opportunities to work with others who support what I'm doing and want to jump in. Some wonderful voices from my church and local Christian community have inspired me to honor the skills and passions God has planted in me. Plus, this area of my life tends to be where God works powerfully to dismantle my ego and show me his love for this art form and my place in it.
What does NYC mean to you, and how do you fit within it?
New York can make you feel so small, and there's a strong desire to try and make an impact on this concrete jungle. After living here 8 years I believe that I have made an impact, but it's been in the "tree growing in a crack of sidewalk" sort of way.
Strangely, New York has heightened my sense of community. Because it's such a difficult place to live and raise children and carve out a career, I've found that a lot of people are more aware of their hunger for meaningful relationships and are more open to doing what it takes to develop them. Plus, we're all living on top of each other in tiny apartments, so we get out in the world more, crossing paths with our neighbors more frequently (for better and worse), and in general living more communally. With as many headaches as this causes, I still love it.
How has the balance of motherhood and creative work shifted as your children have gotten older?
In some ways it has gotten easier. Those early days when both children are basically little wild animals are absolutely depleting. I'd get them down for a nap and spend my "work time" staring at a wall or two for an hour and a half. Now they're a little more independent—or at least know how to stay in the center of a sidewalk—so the insanity is, if not abated, at least somewhat more refined.
Feeding myself creatively is something I have to be intentional about. It's tempting to drive myself into the ground with all the terribly urgent things that need to get done for the family. Because my work isn't exactly a breadwinning endeavor, it's hard to prioritize it. But my husband and I have learned during some dark times when I wasn't working creatively that it's a need, so we've tried to come to peace with the domestic sacrifices it takes for me to work, while also finding ways to mitigate the chaos. It isn't pretty, but we've realized we just have to make it happen.
Going to see a performance is always a huge boost to my soul, but I often have to settle for playing great music while I shuffle clutter around the house, or squeezing out a quick glass of lemonade to remind me of life's little aesthetic pleasures.
There's a lot of talk in the arts world right now about "engaging" with the community; even a burgeoning "service" perspective. And many would say that the Christian vocational calling is to serve God by serving others. How do you seek to serve through your creative work?
This is a tough issue right now because of the limits on my time, energy, and—let's face it—mental capacity. Whenever I see the "service" question on a grant application, I'm tempted to write: "I will serve the community through this work by not going insane. I will spend a challenging day pounding out logistics and dreaming up poignant ideas for this show while simultaneously helping my children become productive citizens by feeding them nutritiously/continuously, refereeing potentially fatal arguments, and attempting to model patience, kindness, and other elusive qualities that are beneficial to society."
Here is the more thoughtful answer: In my work I feel a deep burden to reach the soul of my audience as we wrestle together with the dark and light things of life. I try to sidestep cynicism and invite people to be uplifted or challenged, to approach a place of readiness for real and lasting transformation. Following Jesus' masterful example, I aim for my work to function as parables which mine the beauty and struggle of the everyday, speaking through images and vivid scenarios that open and lift our eyes to God's heaven, which is at hand.
The highest praise I've ever received was that my work entered the viewers' hearts in an almost pastoral way, leading them to approach life with more joy and authenticity. What a joy to be involved in this kind of service! Now if I can only convince grant givers that this is "enough."
Do you have any projects in the works now?
Coriolis is still growing in our little crack in the sidewalk. This year we changed our name to Dishman + Company, reflecting our recent shift toward a more collaborative dance-theater mode. We're getting ready to premiere a new work called "Clay," set to vintage gospel music played live by The Twelve Gates, a phenomenal group of musicians headed by Josh Rutner (saxophone) and Sarah Gregory (vocals).
It's been wonderful to soak in this amazing music over the last couple of months. For a long time I've stayed away from direct Christian references, preferring a more oblique approach to the elements of Christianity I was in fact considering under the surface. Recently though, I've used some overtly Christian constructs—e.g., text from the Requiem Mass, the idea of the Rapture, this gospel music—to invite people to bypass what has become cliché and view these themes from a different angle. We step around the front façade and head to the back porch for a long conversation in the shade.
Luann Jennings is the founder and executive director of Church and Art Network, a NYC service organization for arts leaders and entrepreneurs in the church. An earlier conversation between Elizabeth and Luann is available here.
MORE FROM CHRISTIANITY TODAY