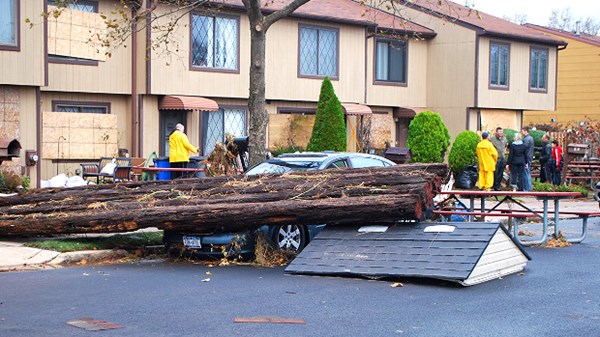 Image: Courtesy of Jeannine Seery
Flooded by a Storm, Then by Grace
The superstorm almost destroyed our home. What happened afterward shocked me.
10.28.13
Spreading Mulch and the Gospel
In the weeks following the storm, we were overrun with volunteers and offers of help. Then, most people went back to their normal lives. Like most homes in our neighborhood, Midland Beach, ours was still completely uninhabitable. We had no electricity, no furnace or hot water heater, and no idea if insurance or FEMA would help rebuild. Many families, good friends of ours, chose to permanently leave their homes. It was a time of darkness and uncertainty for our family and the whole borough.
But the SIERA team wouldn't leave. They just kept coming back with building supplies, laborers, and hearts that were open to listening to our sorrows.
Our story has a happy ending. After many months of hard work, we were able to restore and repair our home with a combination of government aid and the generosity of family, friends, and strangers. We moved back into our home on March 23, the week before Easter. The following Sunday, our family woke up to celebrate Christ's resurrection in our restored home.
However, the massive flood of salt water into our neighborhood killed most of its foliage. While the majority of homes in our area had been restored internally, the streets still looked like a war zone. Spring had arrived, yet our lawns were clumps of mud, our trees and shrubs, brown and shriveled. Debris lay everywhere. The ugliness was a constant reminder of Sandy.
So on Easter weekend, the SIERA team returned to our neighborhood, this time with grass seed, shovels, rakes, mulch, and other gardening materials. Spring was here, and so was new life. The message of resurrection and rebirth was never clearer than when we looked out our windows and saw strangers combing our neighborhood, spreading mulch and the gospel of Christ.
MORE FROM CHRISTIANITY TODAY