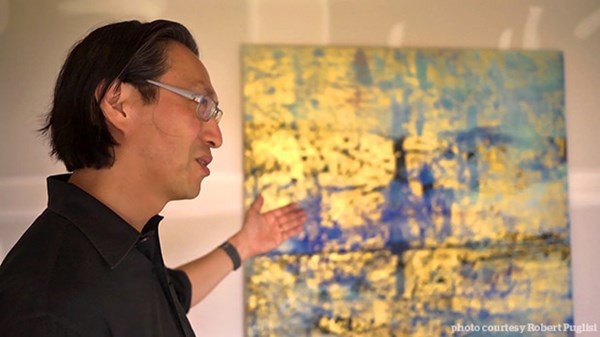 Why Mako Fujimura Left New York City for the Country
The artist's move to Fuji farm follows a tradition of creatives finding new life away from bustling cities.
9.25.12
The city offers intense concentration. Artists can see great art in art museums, the newest art in galleries, attend lectures and other social events that bring them into contact with artists, collectors, dealers, and critics. The art news cycle runs on a daily basis, and the institutions that are necessary for professional artistic practice are found in the city and are responsive to this news cycle.
Yet the blessing of intense concentration is also a curse. It can limit the scope of the artist's experience to the micro-level, in which seasonal fashion trends take on significance they do not deserve. And the institutional, social aspects of artistic practice—going to events, meeting the right people—can gradually become the content of an artist's work, as he or she becomes an art world "insider" rather than an artist. In fact, cities can breed conservatism among critics, curators, dealers, and artists who are fearful to go against fashion trends, upset convention, and risk marginalization from their peers.
For just as artists have by necessity worked in cities, in close proximity to patrons and an educated audience, many have lived at enmity with the achievement of Cain, and, at one time or another, felt compelled to leave it for the country. They have forsaken concentration for space—space to think, to work, to reconnect with nature, to shun the obsession with art world gossip, to take off the blinders and drink more deeply from the waters of the living history of art, music, and literature that have endured over time.
Time away from the city allows the artist to make culture differently. For Fujimura, it allows him to transform a bucolic red barn into a spacious working studio, develop a bird-watching hobby, and take long walks with his wife, Judy.
The escape to the city is not an idealization of the country, as if it gets the artist closer to nature, or closer to God. In fact, it does just the opposite. It forces the artist to experience her exile anew. Art often contradicts our comfort with the world, reminding us that we are exiles and wanderers, testifying that the world is not as it should be. The city offers a place for wanderers to congregate together, perhaps becoming a little too comfortable with this diasporic community of lonely artistic exiles, turning them into a gang of hipsters. The country forces the artist to once again confront his exile, and do so alone.
MORE FROM CHRISTIANITY TODAY