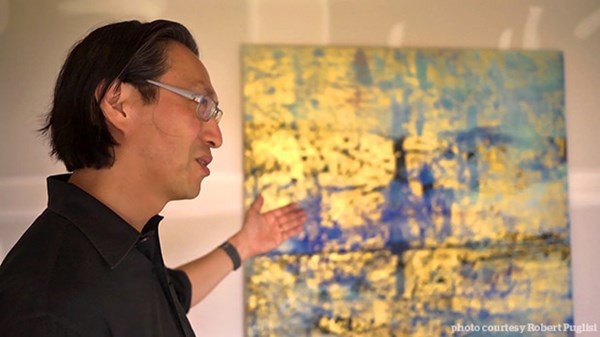 Why Mako Fujimura Left New York City for the Country
The artist's move to Fuji farm follows a tradition of creatives finding new life away from bustling cities.
9.25.12
Art is about discontinuity and contradiction, which is how grace is experienced in the world, as an alien intrusion into a world that deceives us into believing that we are defined by what we do, not by what Christ has done. And so we are compelled to prove ourselves, to make something that justifies our existence. But art is not just doing and making, it is also receiving, and hearing. It is not just an achievement; it is a gift. It is devoting one's life to something so futile, inefficient, and in many ways useless, that it becomes a means of grace. Cities, with their concentration of doers and achievers, full of those obsessed with going from good to great, can pose challenges to cultivating a passivity that is absolutely necessary for art.
The city is indispensible for artistic practice. An artist cannot develop without the concentration, the creative density that cities offer. And yet to make work that is not solely defined by contemporary fashions, locked into and responsive to parochial concerns, artists need to develop ways, at times, to escape it. Not every artist needs a Walden Pond, Arrowhead, or Fuji farm. But every artist needs to step away from the urban pressure to do, to build, to transform, to engage.
The country can also offer a means by which the artist restores her work into the larger, more diverse fabric of work. The intense concentration in the city tends to narrow the artist's vocational scope—everyone she knows is an artist, critic, curator, and drawing a paycheck from the art world somehow, even it it's sitting at the reception desk at an art museum. In the country, the artist befriends the mechanic, gets to know the dairy farmer or beekeeper down the road, and begins to think about her paintings in the context of producing honey, milk, and getting the car to run. Munch often placed his precious paintings outside in the Norwegian cold in order to toughen them up, see how they would fare out in the real world of freezing rain and bird poop. The country seems to offer that experience for the artist herself. Can I still be an artist without the trappings?
MORE FROM CHRISTIANITY TODAY