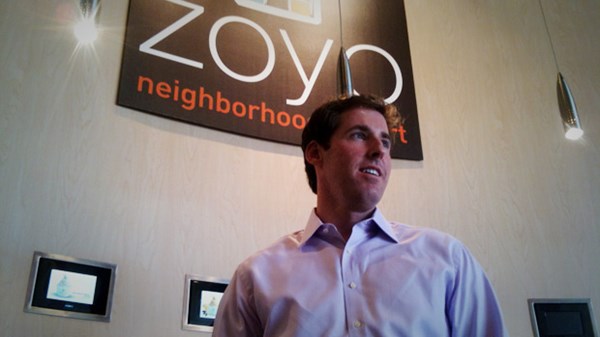 How Creative Business Blesses a City
Phoenix native Aaron Klusman's fast-paced career is a model for Christian entrepreneurs nationwide.
10.12.12
Baseball was Aaron Klusman's first career. A Phoenix native, he played while attending Brophy, a private Jesuit school downtown, then became an All-American pitcher at Arizona State University (ASU) before signing as a top prospect with the Los Angeles Dodgers in 2004.
But sports is an especially front-loaded career, and when injuries began sidelining him, Klusman was forced to face the reality of life without baseball. "I had fully planned on being the best baseball player in the world," he says. "Then I started asking: If I don't have baseball, who am I?"
Some of Klusman's ASU teammates were Christians, and through involvement with the campus chapter of Fellowship of Christian Athletes during his freshman year, Klusman began reading the Bible for himself. "God was working on a lot of different fronts, opening my eyes to the truth of who he is," Klusman says. "Life suddenly had color, and I discovered a purpose greater than myself."
A Broken Theology of God and Business
While playing at ASU, Klusman tried his hand at business by starting a retail clothing company, which grew to include sales representatives nationwide. As the business took off, and as doubts about a future in baseball mounted, Klusman began sensing that God may have uniquely equipped him to be a businessman. But he struggled to reconcile this new sense of calling with his budding faith.
"I was your poster child for a broken theology of God and business," he says. "I was in this horrible spot, feeling God had wired me for business, but with a theology that said God's against money."
Klusman considered becoming a pastor or otherwise "going into full-time ministry." Eventually, however, he realized he might not be gifted for pastoral ministry and that even pastors aren't immune to the sins of pride and greed. "We can't outrun our sin circumstantially," he says.
As he took steps to develop his entrepreneurial ventures, Klusman began meeting for coffee with a longtime friend and former teammate who had become a pastor in the area, to discuss what it might mean to engage the city of Phoenix, looking at it "from two sides of the coin" – one as a pastor, the other as an entrepreneur.
MORE FROM CHRISTIANITY TODAY