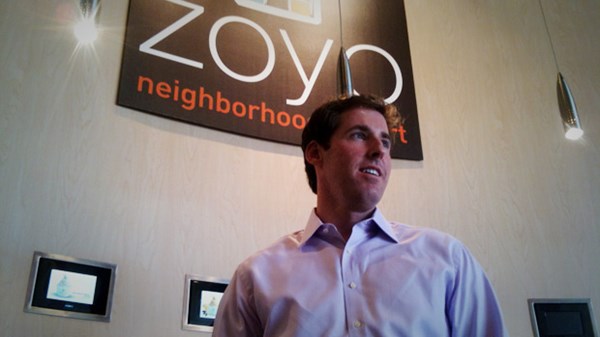 How Creative Business Blesses a City
Phoenix native Aaron Klusman's fast-paced career is a model for Christian entrepreneurs nationwide.
10.12.12
The Camelback Society also hosts a monthly Civic Leader Breakfast, which is open to the public and often features a guest speaker representing government or civil society, intended to facilitate connections with those in different spheres of society for the common good. One recent speaker was Don Cardon, a real estate and public administration leader who also serves on the advisory board of the Camelback Society. Cardon's real-estate business focuses on mixed-use development and other urban projects in Phoenix. He recently served as director of the Arizona Department of Commerce, during which time he transformed the department into a public-private economic development organization renamed the Arizona Commerce Authority.
During his talk at the Civic Leader Breakfast, Cardon advised young business leaders to be careful what they wish for. Sharing candidly from the highs and lows of his own experience, he warned that lingering insecurities often become all the more pronounced the more successful someone appears to be. "As you're granted success," he said, "you become increasingly aware how little it is about you and how much it is about the grace of God."
When entrepreneurs reach their 30s and early 40s, says Klusman, 31, they often begin to gain real traction in their businesses. This success, however, requires long hours, competing with families for time and attention.
"We experience this tension," Klusman says, "and it often goes in one of two directions. Some decide they can't handle family pressures, so they dump themselves into their work, which happens subtly over time. Or they decide they can't handle the pressure of business, and they just settle for a paycheck somewhere."
Faced with these tendencies, a key priority for Camelback members is to develop life plans and commit to monthly reviews, including any needed changes before problems escalate beyond the point of repair.
MORE FROM CHRISTIANITY TODAY