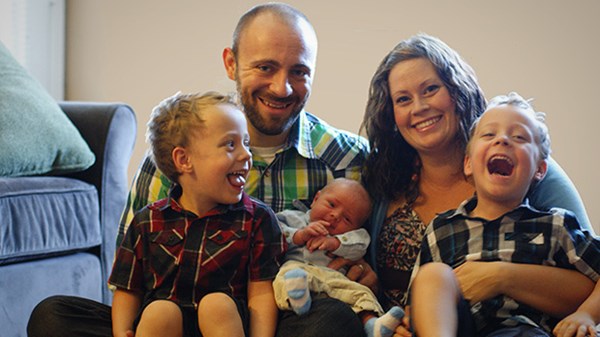 Loving the Loners, One Apartment at a Time
Chris and Bethany Priebe say Christians' greatest 'mission' in Phoenix may be relationship.
11.14.12
In order to love one's neighbors, one must first know who they are—a teaching that's much easier said than done in a place like Phoenix. One of the largest U.S. metro areas, Phoenix is home to a multitude of transplants but surprisingly few natives, boasting a constant growth rate between 1.3 and 5 percent over the past two years.
Newcomers drawn in by the warm sunshine, abundant palm trees, and stunning mountains also encounter the independent spirit of the Southwest, where friendliness is oft regarded with suspicion. Many transplants who have left family behind find it difficult to adjust to a city where the scorching heat drives people inside air-conditioned homes and away from public spaces.
Many transplants come for school. Residents at the Sage Stone apartment complex in the suburb of Glendale come for a large medical college nearby. Renters there often stay for a window of time until they are assigned medical residency elsewhere, return home, or purchase a home in one of Phoenix's many suburbs. Amid this heightened transience, neighbors are temporary, stacking the odds even further against community.
But one couple at Sage Stone has a vision for something different, and they think Christians should make it a reality. They wonder what would happen if Christians in Phoenix met new residents with a friendly smile and an invitation into relationship. Is it possible they could upend Phoenix's loner culture?
Meet the Priebes
Chris and Bethany Priebe are giving it their best shot. The couple met at youth group in northwest Phoenix. Chris had grown up in a broken home, going to church, but with varying religious perspectives in the family. Meanwhile, Bethany began to see she could transplant her childhood dreams of being a foreign missionary directly to Glendale. As the two planned for marriage, they discussed how they would get to know their neighbors.
Once married, they moved into an apartment where work and church kept them from knocking on the door next to theirs. They dreamed of moving into a home where they could throw block parties and invite neighbors over. But even after moving, church, family and jobs perpetuated the phrase, "Tomorrow—we'll do that tomorrow."
MORE FROM CHRISTIANITY TODAY