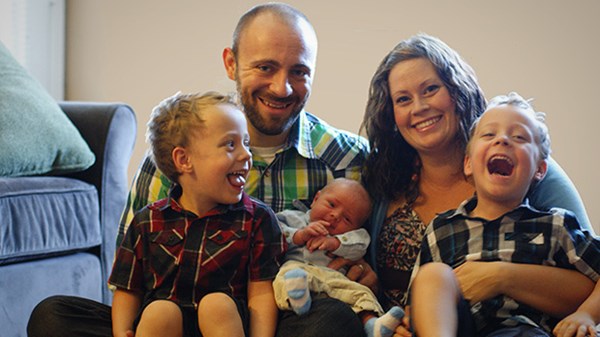 Loving the Loners, One Apartment at a Time
Chris and Bethany Priebe say Christians' greatest 'mission' in Phoenix may be relationship.
11.14.12
As Bethany observed, "When you are financially not in need, you don't always realize the depths of need for relationship and connectedness." Many Sage Stone tenants are uninterested in what they are offering and haven't attended a single event.
But then Chris and Bethany watch their boys play by knocking on doors, pretending to "meet their neighbors." Or they receive heartfelt thanks from someone and realize that simple care matters. "Instead of burning out by focusing exclusively on building relationships, we have to stay focused on all that Christ has given us, how he served us and brought us into a lasting community," Bethany said. "Then we can keep pouring out."
Chris says they hope that "people who are experiencing community for the first time in Phoenix [will] be part of building it somewhere else when they leave."
Sarah Ellis is one of the former Sage Stone residents who has kept in touch. Sarah's family arrived in Phoenix not knowing a single person. Bethany and Chris immediately reached out. "They were always so kind; anxious to help without expecting anything in return," Sarah said. As Sarah anticipates moving again, she hopes to reach out in similar ways. "I tended to stay out of other people's business before. But, I've learned not to be afraid to reach out. The Priebes were never imposing. They were just available."
The Priebes anxiously await seeing the fruit of their hard work to relate well. "As we work out our faith within the community of our church, we see how this should be a normal way for Christians to live," Bethany said. "We want people in Phoenix to say, 'Christians know how to serve and love other people. They build community well.' We want them to know us as Christians by our love."
Katie Hoiland, an Arizona native, is an advocate for the vulnerable who served for eight years at Food for the Hungry and currently works independently for various nonprofits. She lives in downtown Phoenix with her husband, Tim. Find her on Twitter @katienoelle.
MORE FROM CHRISTIANITY TODAY