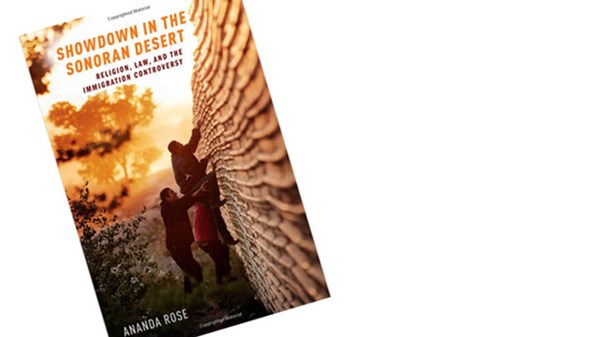 Doctrine in the Desert: How Religion Informs the Immigration Debates
Ananda Rose's new book explores the religious motivations of Southwest groups on opposite sides of the immigration question.
9.12.12
Leer en Español
If there's one truth all Christians can hold tight to amid the rancorous public debates about immigration, it's that the debate is ultimately about people. And nowhere is this reality starker than in the Arizona desert, where thousands of lives are lost each year as immigrants attempt to cross the foreboding terrain at the border.
Previous books, including Luis Alberto Urrea's The Devil's Highway and Kathryn Ferguson's Crossing with the Virgin, have documented migrants' trek across this wasteland. Showdown in the Sonoran Desert: Religion, Law, and the Immigration Controversy (Oxford University Press) is unique in that it includes the perspectives of those who oppose immigration. In Ananda Rose's work, the human face of immigration includes American citizens in Tucson on both sides of the issue—those who stand in solidarity with migrants, and those who defend the integrity of the border. The result is a wide range of emotions and opinions that reflects the complexity on the ground throughout Arizona.
What Do We Do with 'the Other'?
Part One, titled "God in the Desert: Migrant Deaths and the Rise of Border Ministries," comprises five chapters, each of which interacts with a particular group working to meet the physical needs of migrants. In contrast, the four chapters of Part Two, titled "Law in the Desert: Security, Sovereignty, and the Natural Rights of the State," engage those who are committed to stopping the flow across the Southern border. In both sections, Rose strives for objectivity and works to avoid taking sides. Her research is grounded in the pertinent literature but also includes interviews of key individuals on both sides of the border. While her sympathies seem to lie with the immigrants, she is willing to criticize the blind spots of pro-immigrant organizations.
In the opening chapter, Rose visits the border city of Nogales, Mexico, where she talks with three tireless nuns of the Sisters of the Eucharist who run El Comedor, a soup kitchen serving those attempting the trip north and others who have been removed from the United States and dropped off by border authorities. The second chapter turns to the New Sanctuary Movement, a ministry with roots in the Central American revolutions of the 1980s but reborn in early 2007 as a shelter for undocumented immigrants. The founders, pastor John Fife and Quaker leader Jim Corbett, among other activists, characterize their efforts as a "civil initiative" (not "civil disobedience," mind you), maintaining that they protect those whose human rights have been ignored or violated by the government.
MORE FROM CHRISTIANITY TODAY