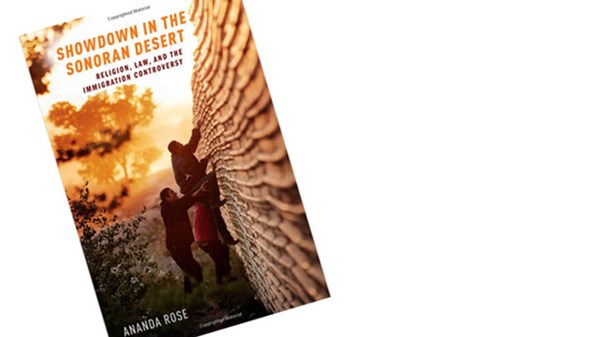 Doctrine in the Desert: How Religion Informs the Immigration Debates
Ananda Rose's new book explores the religious motivations of Southwest groups on opposite sides of the immigration question.
9.12.12
Leer en Español
The approach of Humane Borders, profiled in chapter three, is very different. The organization, started by pastor Robin Hoover, offers passive humanitarian assistance through water stations in the desert. Humane Borders tries to cooperate with the Border Patrol, a tactic not followed by No More Deaths (chapter four), which gives broader direct aid to migrants and is more confrontational with authorities. Several high-profile court cases have involved volunteers, and the group has published very critical reports of border enforcement. The final chapter of this section briefly presents the Samaritans, another group involved in emergency aid patrols.
Part Two begins with an analysis of arguments for and against the wall mandated by the Secure Fence Act of 2006. Chapter seven gives more details on civil patrol groups, such as the Patriots Coalition, Ranch Rescue, and the Minutemen Civil Defense Corps. For these organizations, upholding the rule of law is paramount. They justify their work on the twin convictions that unauthorized immigration presents a danger to the United States security, and that the federal government has been negligent in protecting the border. Others, such as the Center for Immigration Studies and the late Harvard professor Samuel Huntington, also stress the importance of patriotism and a commitment to cultural assimilation, both values they say that immigrants from Latin America lack. The discussion in chapter eight arises from the strict anti-immigrant Arizona Senate Bill 1070, which was passed in April 2010 (and was recently struck down, in part, by the U.S. Supreme Court). This chapter underscores the complications of the immigration quandary caused by, for example, the current visa system, verification of status, and the drug war.
MORE FROM CHRISTIANITY TODAY