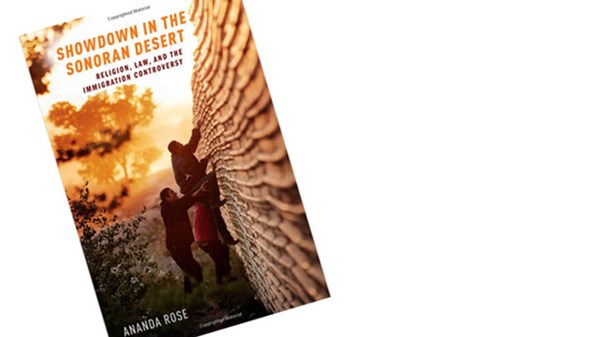 Doctrine in the Desert: How Religion Informs the Immigration Debates
Ananda Rose's new book explores the religious motivations of Southwest groups on opposite sides of the immigration question.
9.12.12
Leer en Español
This summary demonstrates one of the two primary contributions of Showdown in the Sonoran Desert. First, Rose's book serves as an introduction to some of the major voices and issues in the immigration debate; Rose writes well, and the mix of personal stories and commentary make for an attractive read. The second contribution is the space given to reflecting on deeper matters of motivation and vision. Groups turn to specific biblical mandates—New Sanctuary Movement, to Numbers 35:11; Humane Borders, to Isaiah 49:10—but the call to be hospitable to the stranger runs through all the groups who serve migrants. Other biblical justifications are found in the image of God, the command to love the neighbor (Lev. 19:18, 33), and the Parable of the Good Samaritan (Luke 10).
A Moral Project
Rose observes that different organizations appeal to diverse texts to base their commitments, and therefore, what matters is not "the full exegetical truth of a given passage's context" but rather "the effect those interpretations have on the larger public stage" (her emphasis). This stance seems to minimize a fundamental challenge among Christians on such matters: the need to evaluate appeals to Scripture on ethical matters. Additionally, Rose's most extensive deliberations on the Other are drawn from a Robert Frost poem, Freud, Sartre, William James, and Emmanuel Levinas—all quite removed from the biblical framework of those interviewed. So while these musings are interesting, there is a philosophical and religious disconnect with her interviewees and the border context. It would have seemed more constructive to explore other Christian theological resources on hospitality and the border, of which there are several of substance.
MORE FROM CHRISTIANITY TODAY