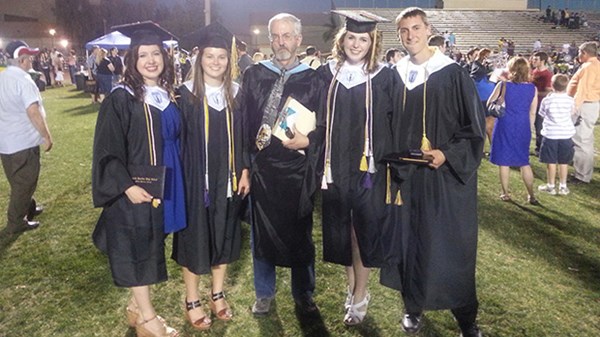 A Teacher Who Transcends the Job Description
When other educators left for better salaries, Thom Olmstead chose to stay for his students.
5.24.13
'A lot of teachers used our school as a stepping stone to teach in other districts, leaving after a few years for higher salaries. I wanted to stick around.' ~ Thom Olmstead
The theme of consistency comes up often as Olmstead recalls his decades in the classroom, and for good reason: when he was a child, his parents were killed in a car-train accident. After living with an aunt, uncle, and four cousins for two years, Olmstead and his two younger siblings moved from their hometown near Buffalo, New York, to Phoenix to live with their grandparents. Four years later, his grandmother died, leaving his grandfather to raise him and his siblings.
"A lot of those kids have gone through some of the same things," said Olmstead. "Through different circumstances, they were pretty much on their own. So they were looking for stability." An added component is that Olmstead is a Christian, something former colleague Gina Karloff says makes him a better teacher who demonstrates the gift of hospitality. "He's sincere, deeply caring, has a great sense of humor, and is very inviting," she says. His students know "he genuinely loves and cares for them."
"I didn't go [to Apache] with the idea that I was going to stay 37 years," says Olmstead. "But the longer I was there, the more I got to know the community, I could see that stability meant a great deal to them. . . . That was the motivation I had to stay there."
A letter Olmstead received recently revealed how important it is that he's stayed. The former student "was only in my classroom for about two-thirds of the year before he ran away from home to get away from his father, who was beating him up." The student now teaches at a university in Florida. "He said, 'I saw something different in you. I could tell you were not in it for yourself, but you really cared about us, and that's why I went into teaching.'"
MORE FROM CHRISTIANITY TODAY