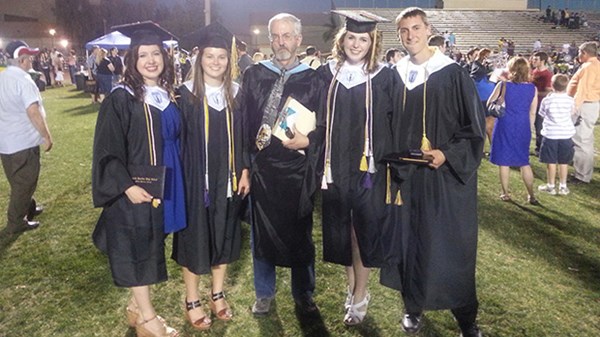 A Teacher Who Transcends the Job Description
When other educators left for better salaries, Thom Olmstead chose to stay for his students.
5.24.13
As an educator, Olmstead hopes to awaken students to the "gratifying world of calculus." He is fond of quoting Galileo's maxim, "Mathematics is the language with which God has written the universe." His passion proved to be contagious for at least one student. When David Loutzenheiser's family moved to Apache Junction before his freshman year, his parents' friends said to "make sure" he had Olmstead. He took math from "Mr. O" for all four years and, inspired by his teacher's example, went on to become a math teacher himself. Loutzenheiser is now an assistant principal in a neighboring school district. "He made math fun," he recalls. "He's that teacher who I would go back to see after I graduated."
As Unto Christ
Beyond math, however, Olmstead's implicit message to his students has always been, "You're safe here. I'm not going to let you get away with murder, because I want to see you learn stuff. But even more than wanting you to learn math, I care about you as a human being who is created in God's image." Olmstead credits Francis Schaeffer with influencing his approach. "One of Schaeffer's mantras was that, if someone is created in God's image, he's an image-bearer. So how do you treat that?"
Many of his students came to high school lacking the academic rigor it takes to succeed. So Olmstead began opening his room during lunch and before and after school for tutoring. He soon learned that the kids were coming for more than math. "Kids would just start opening up, because they didn't have any older person that they could talk to who they trusted. With a math class, you know what to expect every day. And I'm not the most exciting individual in the world. But they could tell they could trust me. And after you've recovered from hearing the things they share, often you can give some advice or encouragement."
MORE FROM CHRISTIANITY TODAY