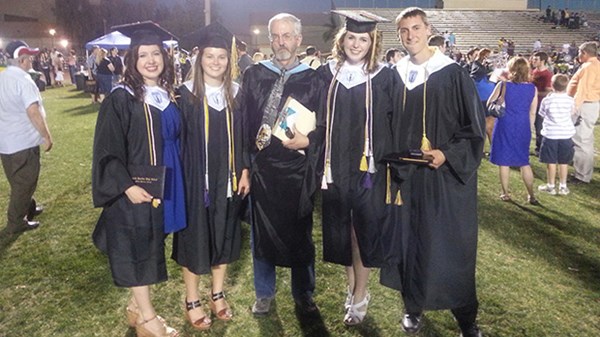 A Teacher Who Transcends the Job Description
When other educators left for better salaries, Thom Olmstead chose to stay for his students.
5.24.13
One student in need was a young woman contemplating suicide. "I was able to get her to some people who could really help her, and she was able to deal with it and made it through.
"I don't fashion myself a counselor in the least. I teach math—how dull is that? But when students are just looking for input on how to live life, if you're there for them, you can make a real difference."
He also remembers forming a math club and bringing students to California at the end of each school year. "Many of the students had not ever been out of the Phoenix metro area, let alone out of the state. The first time we took them to Huntington Beach, they stared at the ocean for 45 minutes." Giving students new experiences exposed them to new possibilities for themselves.
With nearly four decades in the classroom under his belt, Olmstead is mindful of future generations of teachers. As he considers what advice he might give to a college graduation just starting out in her first teaching assignment, he recalls what his mentors, Charles Spurgeon "Chuck" Ludwig and Lamar Watkins, told him: "Give it all the consideration it's due."
Adds Olmstead, "There are so many things that go on within the teaching profession that are crazy, and some make no sense. Keep your head above the fray. And whether you succeed or fail, do it as unto Christ."
As he finishes this semester and prepares for his 38th year in the classroom, Olmstead intends to do just that.
Christy Tennant Krispin is director of engagement for This Is Our City.
MORE FROM CHRISTIANITY TODAY