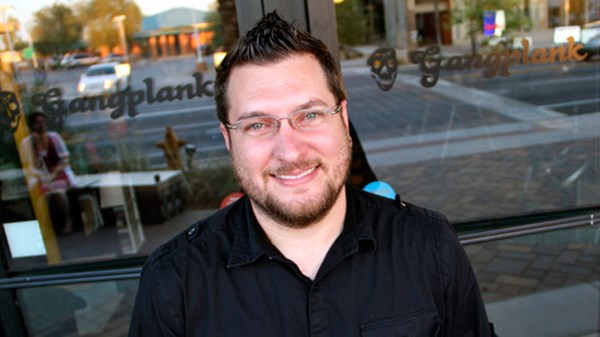 The Best Business Plan? Relationships
If Phoenix Christian Jade Meskill's success is any indication, collaboration and investing in employees isn't pie-in-the-sky idealism. It's just smart business.
10.24.12
The loneliness and isolation that mark modern Western life are amplified in a place like Phoenix.
By far the largest city in the second-fastest-growing state, with 4.2 million, Phoenix has wittingly or unwittingly taken on a spirit of more, bigger and—possibly most significantly—farther. It's the opposite of a place like New York City, where tight quarters lead to creative use of compact areas.
The vast horizons in the Valley of the Sun are breathtaking. But the sheer possibility offered by all of the land can lead to fragmented lives, long car rides, and moving farther and farther out.
Enter Jade Meskill, a Phoenix entrepreneur who's built his company around fighting such isolation with a vengeance. His strategy is simple: he values human beings. And his values have driven him to make ample space—literally—for community and collaboration.
This wasn't always the case. In his first job as Chief Technology Officer for a distribution company in Chandler, just outside Phoenix, Meskill rose to the top fast and was ready to do things his way.
"I wanted to build a great environment where people loved to work," Meskill says. "I gave my employees really flexible schedules, a totally open work environment, and good pay," Meskill says. He even threw in video games. "I wanted people to like working for me," Meskill says.
"But they hated it, and they hated me."
Meskill says he went through a couple cycles of employees who responded to his management style with the same distaste. He had to dig deeper to figure out what was going on.
"I couldn't just blame my employees," Meskill says. "I had to ask how I was responsible for what happened." As a follower of Jesus, Meskill knew that people had gifts and talents given by God. He also knew he was not a perfect boss. What he had yet to do was make his management approach line up with what he confessed on Sunday morning.
MORE FROM CHRISTIANITY TODAY