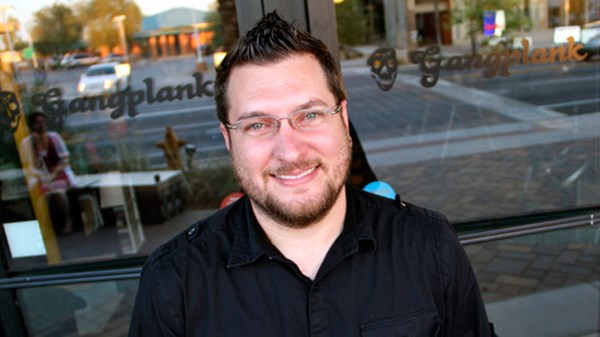 The Best Business Plan? Relationships
If Phoenix Christian Jade Meskill's success is any indication, collaboration and investing in employees isn't pie-in-the-sky idealism. It's just smart business.
10.24.12
Jade says it was like stepping onto a ship of possibility—the possibility that comes through human collaboration—and setting sail. They were not disappointed.
Today, that small sailing ship has turned into a full-fledged, sea-faring vessel. And it is appropriately named Gangplank, the walkway between land and sea.
Building a Gangplank
Picture this: You are going to meet Meskill at his office. You arrive at the correct address and open the front doors. You see about 50 people working at long tables in a big room with exposed wood rafters overhead and cement floors below. You proceed to the back of the room. All along you assume these are Meskill's colleagues hard at work, and in a way they are. It turns out, they don't work for him or Integrum.
Meskill and Neighbors designed Gangplank as a place for people to just show up. The website says, "Gangplank offers FREE collaborative workspace M-F. If you are in the area, drop on by and get your work on." The Gangplank community spans from 20 to 50 years old, and represent at least 10 different companies involved in real estate, education, graphic design, software development, marketing, and business development consulting.
They show up because they believe they have something to offer and something to receive. That's it. They don't pay rent. They have few rules. The only requirement, if a person becomes a regular, is that he or she gives back to the surrounding city in some way in return for all they are receiving through Gangplank. Often this takes place through a monthly Gangplank Open Forum, where people teach from their areas of expertise. Other times giving back means an impromptu problem-solving session for another person's business opportunity. Sometimes giving back doesn't take place within the walls of Gangplank at all. Tutoring children, volunteering for nonprofits, serving in a local church are all part of Gangplank's vision of giving.
MORE FROM CHRISTIANITY TODAY