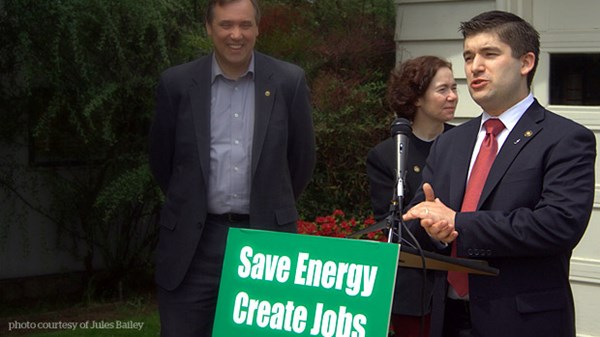 The Cost of Serving Portland—and Jesus—as an Oregon Politician
State Representative Jules Bailey, an unlikely Christian, has drafted some of the most innovative environmental legislation in the state.
1.12.12
Since successfully campaigning for the House seat in 2008 and 2010, Bailey's ability to draft legislation that marries environmental sustainability with innovative job creation has earned wide acclaim. In his first term, he was co-chief sponsor of the Oregon Energy Efficiency and Sustainable Technology (EEAST) act, which provides low-interest financing to home and small-business owners for energy-efficient upgrades. Recipients repay the loans over time with the money the upgrades save them on their utility bills. In his second term, Bailey championed the bipartisan "Cool Schools" bill, a unanimously passed initiative that hires local laborers to perform environmentally friendly upgrades in public school buildings. Schools are able to repay the low- or zero-interest loans using savings from this increased efficiency.
In 2011, Bailey, a fifth-generation Oregonian, was named Innovator of the Year by the Oregon League of Conservation Voters, as well as one of the "35 Innovators under 35" by the nonprofit 1,000 Friends of Oregon.
"I didn't win because I had great mailers," Bailey said of his overwhelming victories in 2008 and 2010. "I won because I listened to people. See these calluses on my knuckles?" He holds up his hands. "Most of the houses in my district are old and the doorbells don't work, so I knocked on ten thousand doors."
MORE FROM CHRISTIANITY TODAY